Racers have a good sense of humor.
Check out this shot taken by
Mark Rebilas
at the NHRA Las Vegas race during Halloween weekend.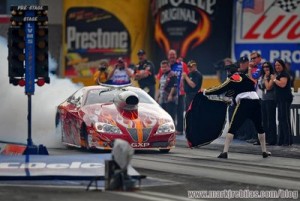 This is Justin Humphrey's Pro Stock crew member dressed as a matador with Justin's car being the bucking bull….
A perfect costume if you ask me!
Also, I understand that Jack Beckman was running around the staging lanes dressed as Ricky Bobby, but I haven't found photographic evidence of it yet. Anyone catch a pic??
Happy Halloweenie!