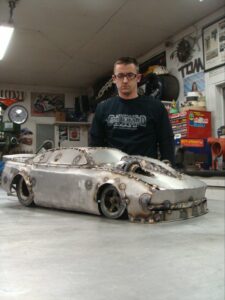 This year for my birthday, my boyfriend Alex surprised me with one of the most unique and amazing gifts:   he commissioned Tom Patsis of Cold Hard Art to create a metal art sculpture of my 2007 Twin Turbo Mustang Pro Mod.
Tom took only the photos I have online here to create the model.   The attention to detail is stunning!  Everything is present:  the turbo impellers, the wheelie bars, the parachute and beadlock wheels.   It is one of the most impressive art pieces I've ever seen, and it looks exactly like my racecar!
He's done other impressive models as well, and I'm quite honored to be one of the lucky subjects of his art!   I'm also quite honored to have a really smart, resourceful and thoughtful boyfriend who knows that car parts and racing art beat flowers hands-down!