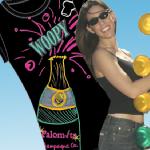 Starting on October 15, 2008, the Palomita Education Fund will be auctioning off a number of fun and unique items to bid on to raise money for the cause.
Horsepower & Heels driver, Erica Ortiz, is one of the featured artists on the shirts. The shirts were part of the "Piensa Mas Alla" or Think Beyond fundraiser, an annual fashion show dedicated to raising awareness and support for the Palomita Education Fund. The auction will feature the limited edition designs, autographed by their celebrity creators.
"I think it is wonderful what this organization is doing for the hispanic youth. I'm very proud to be associated with Palomita Education."   –Erica Ortiz
The auction site will run from 12pm October 15th, to 12pm on Friday, November 14th. You can view the designs and bid online at http://www.palomitaeducationfun.cmarket.com/
The Palomita Education Fund was founded in 2007 by Molly Robbins, a successful entrepreneur and Mexico City native. It is a non-profit organization that encourages and supports professional and leadership development in the Latino community.
The objectives of the organization are to:
* Provide scholarships to Latinos planning to or currently enrolled in college
* Encourage participation of the Latino community in higher education and professional growth
* Promote a productive and high-quality life.
If you have questions regarding the Palomita Education Fund, items in the catalog, bidding, email communications, events or other general information, please contact [email protected]
THANKS TO THE SUPPORTERS OF HORSEPOWER & HEELS RACING
http://www.briskusa.com/ — BRISK SPARK PLUGS
http://www.pnn.com/ — PNN.com
http://www.trickflow.com/ — TRICK FLOW SPECIALTIES
http://www.harlandsharp.com/ — HARLAND SHARP
http://www.excessiveengineering.com/ — EXCESSIVE ENGINEERING
MOODY RACING ENGINES
http://www.exileturbos.com/ — EXILE TURBO SYSTEMS
http://www.hernonmfg.com/ — HERNON HIGH PERFORMANCE SEALANTS & ADHESIVES
CONTACT
Horsepower & Heels Racing
phone: 407.283.7930
email: press at horsepowerandheels.com
web: http://horsepowerandheels.com/
Palomita Clothing Co.
email: [email protected]
web: http://www.palomitaclothing.com/