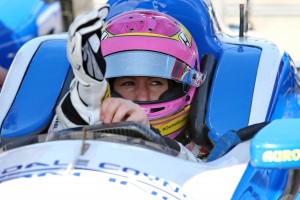 Pippa Mann just announced that she will be returning to the seat of her No. 18 Dale Coyne Racing Honda for the final oval race of the Verizon IndyCar season: the ABC Supply 500 at Pocono Raceway in Long Pond, PA.   The race will be Mann's second start at the challenging Pocono triangle, with her previous start in 2013 also from the No. 18 car for Dale Coyne Racing.
Pocono is probably my favorite oval on the schedule after Indianapolis Motor Speedway. I love the uniqueness of the track, and the challenge of trying to find a car balance that works in three completely different corners. In 2013 it was a tough track to pass at, largely due to that different nature of the corners, and working out where on the track you needed to be fast, and to be able to follow, to then try and complete the pass. There's another 100 miles added to the race since I last drove it, making it another 500 mile race, but I normally enjoy the long races, so I'm looking forwards to that aspect too. It was one of the races I found hardest to watch from the outside last year, and I am thrilled to have the opportunity to be back on the inside of an IndyCar cockpit as we head back to Pennsylvania in 2015."
Mann finished 15th in her 2013 start, a result she and the Dale Coyne Racing team hope to improve upon their second time together at Pocono.   She currently is ranked 29th in Indycar points, after starting in 5 events on the circuit.
Race Broadcast Information:
Qualifying will be broadcast live on NBC Sports Network from 2.00-3.00pm ET, with the race broadcast also live on NBC Sports Network from 2.00-6.00pm ET. Watch Pippa Mann Live.  Green flag time is estimated at 2.37 ET.
Broadcasts are also available via IndyCar Radio, the Verizon IndyCar 15 app, and live timing and scoring can be found on IndyCar Race Control.