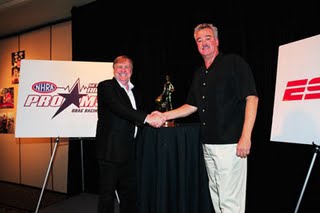 The long, hard fought battle has finally been won.
For 9 long years, Pro Mod racers have begged, pleaded, borrowed and stole to gain the acceptance of the NHRA as a professional category, only to be shunned aside as a mere exhibition class.
Popular across the country for the colorful, exciting, and out-of-control tendencies, Pro Mod drivers relegated themselves to limited exhibition status, a pay-to-run class that was considered the ugly step child of the NHRA. Often walked-on during their limited schedule appearances, the Pro Mod class endured zero coverage or respect from the NHRA, no TV time, no promotional acknowledgement, and were the first on the chopping block for rain delays, with qualifying scrubbed at the first sign of delay.
For years, Pro Mod supporters cries fell on deaf ears in the California home offices of NHRA. Many believed that they refused as a matter of principal after the ugly pro stock truck fiasco, some felt that factory supported hot rods feared the backlash from Pro Stock drivers. Most had finally accepted the cause as lost, that NHRA would never acknowledge or accept Pro Modified as a professional category, myself included.
But a surprising change of heart came courtesey of an announcement by Tom Compton of the NHRA at the awards banquet: as of 2010, Pro Modified is now a legitimate professional class.
The 2010 Get Screened America Pro Mod Drag Racing Series
What does this mean for Pro Modified racers? A LOT. Now, the class is an official NHRA run series, complete with a centralized NHRA approved/controlled rulebook, a per race purse structure, and a championship points purse fund. NHRA media will now highlight the class in the National Dragster and NHRA.com, along with a seperate 30 minute ESPN TV program devoted to the class (tape delayed). The series is now eligible for contingency sponsors, will have access to their own hospitality area, a vendor trailer on the NHRA midway for t-shirt sales, and most importantly, will now be competing for the same coveted Wally trophy as NHRA Championship drivers.
This allows drivers to actively pursue sponsors, now having legitimate benefits to offer in terms of coverage and exposure, something that had been a tough sell in the previous architecture. For me, this means a complete revise to my marketing plans, and a renewed fight to find a partnership that would allow me to move up to the National stage.
There's a lot more work to be done this off-season for many teams, and I suspect the NHRA will be surprised with the 1st year results.
The NHRA Get Screened Pro Mod Drag Racing Series Schedule
41st annual NHRA Gatornationals March 11-14 Gainesville, Fla.
23rd annual O'Reilly NHRA Spring Nationals April 9 – 11 Houston
14th annual NHRA Midwest Nationals April 30 – May 2 St. Louis
30th annual Summit Racing Equipment NHRA Southern Nationals May 14-16 Commerce, Ga.
41st annual United Association NHRA SuperNationals June 10-13 Englishtown, N.J.
10th annual NHRA Thunder Valley Nationals June 18-20 Bristol, Tenn.
4th annual Summit Racing Equipment NHRA Nationals June 24-27 Norwalk, Ohio
56th annual Mac Tools U.S. Nationals Aug. 31 – Sept. 5 Indianapolis
3rd annual NHRA Carolinas Nationals Sept. 16-19 Concord, N.C.
10th annual NHRA Las Vegas Nationals Oct. 28-31 Las Vegas
photo: Roger Richards