Movie surrounding Erica Enders' 2014 Pro Stock Championship Funded
Racing in Red, the behind-the-scenes documentary movie project that followed Erica Enders in her 2014 Pro Stock Championship winning season, recently achieved its Kickstarter funding campaign goal required to enter final production.    252 contributors successfully backed the campaign, donating a total of $126,255.00 towards the project's final production costs.
Racing in Red |  Trailer Video

Racing in Red Official Trailer from Design con Carne, Inc. on Vimeo.
The Story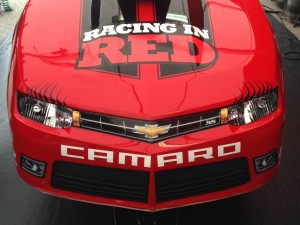 As the 2014 season began, Erik Danielson, a close associate of Elite Motorsports team owner Richard Freeman and owner of Danielson Entertainment Group, LLC had the forethought and vision to know this was a story that needed to be told. Using his own capital, he engaged husband and wife design and filmmaking team Kevin and Kelly Anderson of Design con Carne, Inc. to travel with the Elite team through the bulk of the season. The cameras rolled constantly, beginning in February with shaky test runs of the new car and driver and in Phoenix and on through the ups and downs, wins and losses, big paydays and empty bank accounts, trophies and blown engines of the grueling 10-month NHRA season.
As the project neared 95% completion, they needed financial assistant to enter final production to cover the costs of licensing, video and audio post-production, and original musical composition needed to finish.   The Kickstarter campaign gave fans a chance to donate, earning themselves unique project rewards for their support.
Racing in Red Release
Anticipated release of the Racing in Red Blu-Ray or DVD was listed on the the Kickstarter Campaign as July 2016.