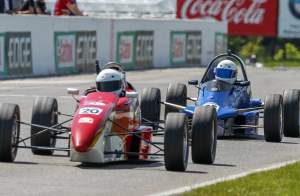 Rainy conditions proved problematic for open wheel driver Amy Castell at the BARC Grand Prix of Ontario this past weekend.  Downpours and heavy winds would arrive at Canadian Tire Motorsport Park just in time for the Saturday race and would last for 24 hours, leaving the track conditions tricky for the race.
With the track surface soaked and areas left with standing water, tensions were high as the field used the pace lap to look for any places with grip.    Drivers would struggle with traction conditions as the race began, with a car hitting the wall in turn two, creating a full course caution after just a few laps.
Unfortunately for Amy Castell, she would find herself in a similar situation only a few laps after the course returned to green.
This weekend was a bit disappointing. We were running so closely to the front and had a sizeable gap to the car behind me. The rain just got the best of me into turn four and I made contact with the wall," explained Castell. "All you can do from with things like this is figure out what you did wrong and do better next time; and I look forward to doing that."
Assessing the situation after Saturday's mishap, the team would decide to withdraw from Sunday's race and focus their efforts on preparations for the next event, the inaugural Bay of Quinte Grand Prix.  The event will take place July 18-19 at Shannonville Motorsport Park and will feature DAC Trillium Trophy Races.