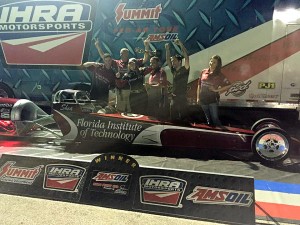 Multi-motorsport standout Shea Holbrook just earned her first jet drag racing victory at the IHRA Nitro Jam San Antonio Nationals.   She defeated the newly crowned IHRA World Jet Drag Racing champion, Elaine Larsen for the Ironman win, the first win of her rookie drag racing season.
Holbrook took her Florida Institute of Technology dragster to an impressive 5.920 seconds at 268.98 mph performance against Elaine Larsen, but it was her 0.0562 reaction time that nailed the holeshot victory against Elaine's faster but losing 5.892 second at 265.96 mph.
Though a rookie in drag racing, Florida native Shea Holbrook is a veteran behind the wheel, competing in  SCCA road racing competitions for over 7 years.   She teamed up with Jet Dragster veteran and women in racing pioneer, Elaine Larsen and Larsen Motorsports to teach her the ropes of drag racing a 300+mph jet dragster.   The opportunity came as the result of a successful crowd funding campaign through Dark Horse Pros.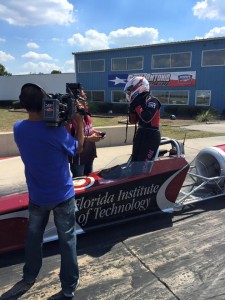 "A big thanks to Chris and Elaine Larsen for presenting this idea. I don't think they nor I thought we'd ever put a road racer in a jet dragster but hey, so far so good! Around this time last year we were in talks about this program and we ran a Dark Horse Pros crowdfunding campaign. Thanks to fans, supporters, friends and family we exceeded our goal by 103% in 30 days. I've always been a big fan of wearing your heart on your sleeve and I thank everyone for allowing me to do so."
Shea and her FIT jet dragster team have just one more stop on the IHRA Nitro Jam schedule, the IHRA Summit World Finals in Memphis, TN October 9-10, 2015.