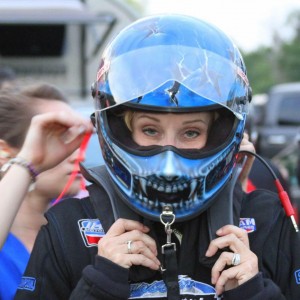 Elaine Larsen, owner of the Larsen Motorsports Jet Dragster team, was able to cinch the 2015 IHRA Jet Dragster World Championship at the San Antonio Nationals this weekend.   With one race to go in the 2015 season, Larsen and her female crew chief, Paige Sanchez, were able to race their Miller Welds Dragster to a runner-up finish at the event, securing the championship points lead for the title.
Runner up at San Antonio Nationals
Although Elaine would post a faster 5.892 second at 265.96 mph pass in her Miller Welds Dragster, her teammate Shea Holbrook would leave quicker off the starting line, earning a holeshot victory against the reigning 2014 IHRA Jet Dragster World Champ.
Larsen cinches Jet Championship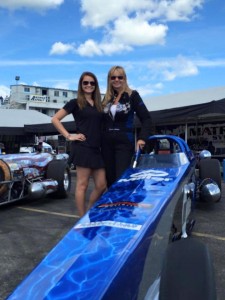 Larsen, who has recorded four wins this season and five runner-up finishes in 11 races to date, was able to defend her 2014 title to retain the Jet Dragster World Championship with one race to go, the upcoming IHRA World Finals in Memphis, TN (Oct 9-10).
Elaine has over 20 years of drag racing experience, and with husband Chris Larsen, operates Larsen Motorsports, a hot spot of driver and engineering development for women in motorsports.    Her crew chief, Paige Sanchez, a Mechanical Engineering student, made sure that the Miller Welds Dragster was in championship contending form all season.     The duo promote "Girl Power" in the male dominated world of drag racing, and encourage education and advancement through their Jet Technology Center display at races.   There, fans can watch Paige service the General Electric J-85 engines used in the Miller Welds dragster.