My parents may not have ever guessed that I'd grow up to be a total hopeless gearhead Drag Racer, but I think they had some idea that I wasn't a "normal" little girl.
While most kids dreamed of growing up to become veterinarians and doctors, I was awe-inspired at the tender age of 6 by what would be a classic 80's Hollywood movie… oh yes, wait for it….
Top Gun
. [cue Danger Zone music]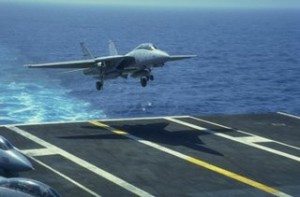 I very clearly remember watching it with my family one night, and even though I was a restless 6 year old, was absolutely transfixed by what I saw. My dad was a career Air Force officer, and had retired from the Air Force before I was born. Perhaps my love of aircraft and speed came subconsciously from him, but I don't think they expected what came out of my 6 year old mouth after watching Maverick and the rest of the characters lighting up the sky in those F-14's.
And no, it wasn't the Volleyball scene, or a actually still relevant at the time and hot Tom Cruise, I had zero desire to be a Kelly McGillis lusting after some flyboy (though admittedly, I DO have a thing for men in flight suits as an adult). Top Gun was Navy, but whatever, I had decided at age six I wanted to be an
Air Force Fighter Pilot.
My dream was rather crushed when my dad told me (at the time) that women were
not permitted by the military
to be combat pilots (something that changed in 1993). It wasn't because he didn't want to encourage me, I'm pretty sure it was also his dream growing up, and his eyesight was the disqualifying factor for him, so he didn't want me to be disappointed by the rule in place. Talk about a crushing blow… but instead of becoming an Ace Pilot, I later would settle on becoming a pilot of a different sorts… a drag racing pilot.
Maybe its not a screaming jet with supersonic speed and all kinds of fun G's, but drag racing at 200mph is still pretty thrilling. (Here's to hoping I get my chance in a Top Fuel Dragster and get to that 300mph thrill) And now the Air Force has figured out how to get the average person to merge these passions together with their latest recruitment tool: The Mustang X-1.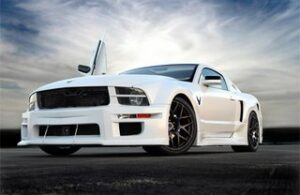 Designed by the same people responsible for the new gen KITT car (Galpin Autosports), this car has been totally redone for the USAF. On the exterior a radical lowered stance and low profile tires make for the aggressive aircraft-inspired theme complete with carbon fiber body, aerodynamic air intakes, and gull-wing doors. The flight cockpit interior completely replaces the Mustang interior with flight-stick, a touch-screen interfaced control system, and a single driver ejection seat center-mounted setup. GPS and nightvision technology is also found on the high-tech console.
At first, I was rather curious how they were "driving" via a flight-stick, but I read on to discover that there is a hidden regular motorized steering wheel that pops out for the "pilot" to steer with (slight disappointment that its not stick-driven, but whatever). The stick is actually a very nifty shifter for the manual transmission. I was also surprised that the car is only hopped up to 500 hp with cams and exhaust, which by my hotrodder standards does it zero justice… I mean why not twin turbos or something cool!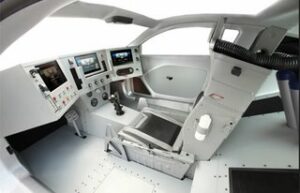 Alas, its a pretty cool recruitment tool if you ask me… they also have a Charger called the "Vapor", but the X-1 is definitely the more radical of the two.
Now that I'm grown and have spent the last 10 years chasing my dream of drag racing, I wish I would have had the level of determination applied to pursuing my dream of being a fighter pilot. I had no way of knowing then, but CAN'T just means you have to try a little harder…. Its still on my "
Bucket List
" to ride in a supersonic jet at some point, to cross off both me and my dad's dreams together. Or maybe I'll land a Top Fuel/Air Force sponsor and get to combine both dreams at once. (Keep your fingers crossed folks!) Regardless, I feel pretty lucky to be participating in the land-version of high speed flight in drag racing, because as Goose and Maverick put it oh so well….
"I feel the need…. the need for SPEED!!"