One good thing that comes from traveling for business, is that occasionally I get to do/see some interesting places that I likely would not have had the chance.
This week, I traveled to Las Vegas for a convention in the RV industry, but thanks to my good friend Eddie Maloney, I was able to escape for a few hours to see some of the greastest Las Vegas gearhead sightseeing opportunities Sin City has to offer.
Las Vegas Motor Speedway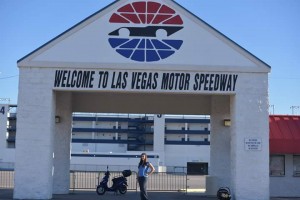 The Strip at Las Vegas is probably one of my favorite tracks that I've never raced before. Having seeing it briefly back in 2010 on another work trip, the atmosphere and scope of the facility is breath-taking. Eddie actually works for the speedway, so he was able to take me around on the grand tour of the facility. Its massive and highly impressive. Many people never leave Las Vegas Blvd. to see what else the city has to offer, and by this are missing the impressive activities happening just north at the Speedway.  In addition to the Strip, one of the most scenic stops on the tour with the desert mountains in the background, there is also the expansive NASCAR oval, dirt tracks, road courses, exotic car racing experiences and more offered on the premises.
We drove through the pit area of the NASCAR track, as one of the prominent NASCAR teams was on the track testing.   We didn't go near the garage area, but driving through the tunnels and just seeing all the infield area was a neat experience.
I promised Eddie that once we get back on the track, if we are able to find the sponsorship support to make a trip out west for an event at the Strip, I'd definitely make the long haul west for the chance to race at this legendary facility.
Location:  7000 North Las Vegas Boulevard, Las Vegas, NV 89115
Phone:  (702) 644-4444
Nellis Air Force Base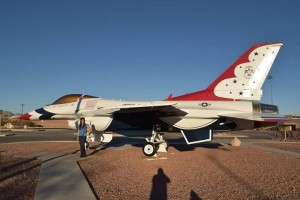 Anyone who really knows me, knows that my first love has always been fighter aircraft.   In fact, its one of the reasons that I took up drag racing to begin with.  Just across the street from Las Vegas Motor Speedway, lies Nellis AFB.   During my 2010 trip to the national event, the Thunderbirds did a fly-by presentation at the track, which is as close to heaven on earth as you could possibly get me.   Eddie also happens to be AF himself, so he quickly zipped me across the street into one of the places I always dreamed of visiting.   Considering you have to be DoD ID'd to get in, I'd say this is a pretty VIP experience!
It happened to be a National holiday during my visit (MLK Day), and the base was pretty quiet, but I was still given the impressive tour of the facility.   The highlight— right there in front of me…. the entire Thunderbird squad on the ground.  About the only thing that could've made it better (aside from getting the chance to go up in one) would've been if I could've seen them taking off/landing…. perhaps another visit.    Either way, its a surreal moment getting to visit such a cool place.
Las Vegas Harley Davidson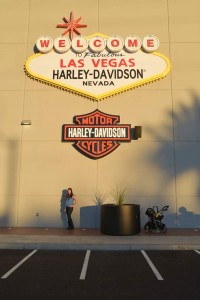 The brand new Las Vegas Harley Davidson dealership just opened in October of last year, and its spectacular.   Strategically placed just a few steps from the famous Las Vegas sign, its definitely a destination dealership.   They have a huge facility, with rentals, an expansive showroom, spotless service area, the largest Motorclothes display I've ever seen, and a lounge area for motorists.  They even have a Harley Davidson Wedding Chapel for those die-hards wanting to tie the knot in HD style.   They had a cool photobooth app too that sends out via social media or email a selfie postcard from your visit.   We spent quite a few minutes walking around checking everything out.   I imagine they have some great rides come through the area, and am considering renting a bike for some sightseeing next trip out if I can swing an extra couple of days in the desert.
Located:  5191 S. Las Vegas Blvd. Las Vegas Nevada, 89119
Phone:  888-218-0744
Hours:  8:00AM – 9:00PM, Daily
Carroll Shelby Heritage Center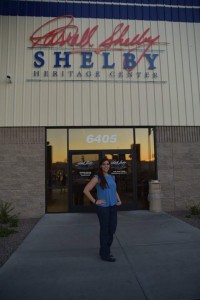 The final stop on the gear head tour took me to the Carroll Shelby Heritage Center.   The center is a relatively new facility that houses a large collection of all the historic cars in the Shelby stable, including the first Cobra, prototype cars, the GT500KR and other items in the Shelby legacy.   The center also houses a huge shop area, where work is being done on many different Shelby models.  A Blue Oval girl like myself is right at home, but even Shelby's brief Chrysler/Dodge models can be seen on display.   They had the new 2015 Mustang Shelby model on display, and believe me, I drooled all over it.   The gift area was surprisingly reasonably priced as compared to much of the other tourist trap gouging you see.    I didn't even know that this museum existed in Las Vegas, so it was a happy surprise to have had the opportunity to visit.
Located: 6405 Ensworth St. Las Vegas, NV 89119
Toll Free: (844) 9 SHELBY (844-974-3529)or call (702) 942-7325
Hours:  Mon-Sat, 9:00AM – 6:00PM; Closed Sundays
You can see more photos from the trip in my Las Vegas Gear Head Tour album.