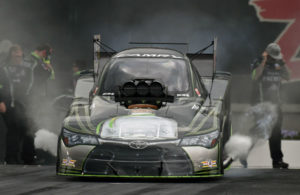 NHRA's Alexis DeJoria, driver of the Tequila Patrón Toyota Camry Funny Car ended her consistent streak in the first round of the 7th Annual NHRA Four Wide Nationals event.    Top qualified DeJoria exits early in the first round with a disappointing loss after the two best passes of her career the day before.
DeJoria, NHRA Mello Yello Drag Racing Series' most recent Funny Car winner, claimed her first No. 1 qualifier of 2016 after driving her 10,000-horsepower Patrón Camry down the 1,000-foot stretch in 3.934-seconds in Q4, resetting the zMAX Dragway E.T. record.
The pole was DeJoria's career fourth No. 1 qualifier, an achievement that although highly coveted, seems to result in the Patrón team falling victim to the dreaded 'first round gremlins.' And that's just what happened. DeJoria was quick off of the line in E1; her 0.066-second reaction time gave her the starting line advantage over her three first round opponents- Tim Wilkerson, Robert Hight, and Jeff Diehl.
Unfortunately for Team Patrón, their Toyota Camry smoked the tires hard at about the 200-foot mark. DeJoria pedaled, in an attempt to recover, but Wilkerson and Diehl were already too far down track, setting off their win lights respectively and ending Team Patrón's day.
The curse of the dreaded No. 1 qualifier," joked DeJoria, a four-time Funny Car winner. "Honestly, the guys gave me a great car all weekend. It just wasn't our day, unfortunately. We went out there and smoked the tires hard. I got it to recover a little bit but then I looked down-track and saw two cars already at the finish line so I let up. I could've done better in my pedal job, but there wasn't much left to do. Wilkerson and Diehl had already taken the cake for that run. We'll just come back out here next year and try and tackle this beast of a race."
Until Sunday's tire smoking opening round of eliminations, the Kalitta Motorsports Tequila Patrón Toyota Camry Funny Car team had made 11 consecutive 4.0-second runs or better. Team Patrón heads straight to Baytown, Texas for the next stop on the 24-race NHRA Mello Yello Drag Racing Series tour. There, they will look to build on the momentum they created when they took to the track at the last race in Las Vegas. Team Patrón leaves zMAX Dragway sitting in eighth with 277 points.