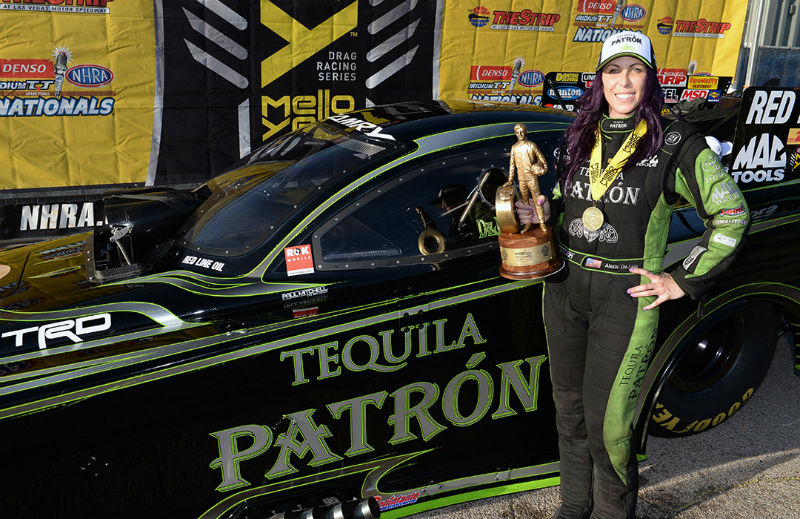 After a slow start to the 2016 NHRA Mello Yello Drag Racing season, "lady luck" has once again found her way to the Tequila Patrón Toyota Camry Funny Car team.    Progress from chassis changes made in Gainesville finally paid off at The Strip at Las Vegas Motor Speedway, landing  a fourth career win for Alexis DeJoria.
DeJoria qualified No. 6 with a 3.947 second elapsed time, placing her against Tommy Johnson Jr. in the opening round of eliminations on Sunday with lane choice.   She would take the win in the Rd. 1 match-up, running a 4.006, 313.00 mph against Johnson Jr.'s 4.073, 308.35 mph effort.
Round two, DeJoria would meet former Funny Car champion Robert Hight, taking the holeshot win in a spectacular side-by-side finish – a 4.005 second, 315.86 mph effort  defeating Hight's quicker, 4.004 second,  320.20 mph pass.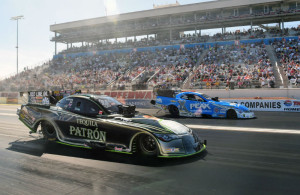 Alexis would move onto take on 16x Funny Car champion and defending event winner, John Force, in the semi-finals, running 4.012 at 316.97 mph to his 4.053 at 319.52 mph.    The win here pushed Alexis DeJoria into her seventh career final round against Kalitta teammate, and former World Champ, Del Worsham.
Vegas has been lucky for Alexis since 2013, where she has finished in the semi-finals or better.   This year, hoping for a repeat of her 2014 NHRA Vegas Spring National event win, Alexis squared off against her teammate in another tight race to the finish. Lady luck didn't disappoint in another hard-fought win, 3.968 at 315.49 mph defeating Del's 3.988 at 323.58mph.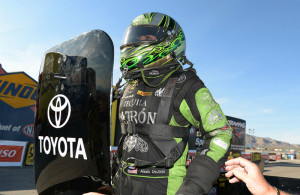 This wally marked the fourth career win for Alexis DeJoria in Funny Car competition, and the third straight event win for women in the 2016 NHRA Mello Yello Series.
"To be a part of that, it's incredible. Three women in the last three races including myself have won. It's an amazing time in NHRA Drag Racing. We've come so far."
The win comes after a rough start to the 2016 NHRA season and a 2015 season that included more 'downs' than 'ups.' DeJoria suffered two first round losses and bottom-half qualifying efforts at the past two events in 2016.  But as history would have it, the Tequila Patrón team would find success once they returned to the Vegas drag strip.
"Man, we just needed to catch one break. Lately, we couldn't get down the track much in qualifying and then the first round, we would turn it around and do so well, but the other person would just do a little bit better so it was a lot of tough breaks," said DeJoria, whose last win came at the 2014 U.S. Nationals.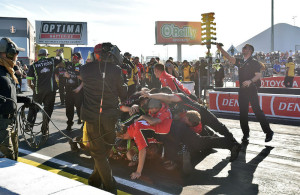 Racing her teammate and mentor, Del Worsham in the final was a memorable occasion for DeJoria, marking the first all-Kalitta Motorsports final.
"It's been a dream of mine to race Del in the finals, and going up against him, it's no easy feat. I was pretty excited to race him in the final but man, I wanted to win so bad," said DeJoria.
Sorting out some issues that had been plaguing the team, their hard work finally granted them the consistency that proved key this time, leading the team to a fourth career win for Alexis DeJoria.
"This fourth trophy was definitely a difficult one to come by. It took a lot of races to get here but we've been consistent all weekend. We made four good runs in qualifying and on race day as well. I don't know the last time we've done that. We definitely didn't do it at the last race, that's for sure. It's just been such a turnaround. The last race was heartbreaking because I knew we could do better and we definitely accomplished that this weekend," said DeJoria.
DeJoria's win moved her from ninth in the Mello Yello Countdown to the Championship points standings up to eighth with 233 points. The win also earned her a spot in the prestigious Traxxas Nitro Shootout.
"I'm just so proud of my team. My guys have worked so incredibly hard and really turned everything around. They've done such a good job and it's just been an awesome weekend. To top it all off, the Patrón Spirits Company's corporate office is here, and to be able to put our Tequila Patrón Toyota Camry in the Winners Circle once again in their backyard is just incredible."