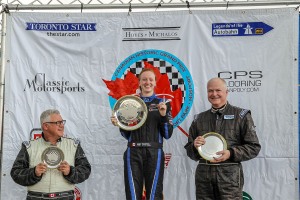 A strong triple-podium finish for 19 year-old Amy Castell at this past weekend's Canadian Historic Grand Prix at Bowmanville, Ontario's Canadian Tire Motorsport Park.   The Waterloo, Ontario native would capture her first win at Canadian Tire Motorsport Park in the Club Ford, Formula Ford, and modern Formula 1600 mixed feature.   She also landed two third place finishes in the Toyo Tires Formula 1600 Championship features on Saturday and Sunday.
The Canadian Historic Grand Prix is one of the most prestigious events on the Vintage and Historic Racing Calendar in North America.   The largest and most popular event of its kind in Canada, it is considered a "Major Spectator Event" at Canadian Tire Motorsport Park since 1999.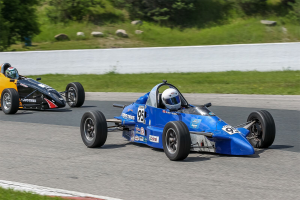 Amy Castell would compete with the Open-Wheel Formula Ford Racers, the "Featured Marque" for 2015 where racers battle for the Oliver Clubine Trophy in honor of Ollie Clubine, a champion and pioneer of Canadian Road Racing.
The Toyo Tires Formula 1600 Championship began with their first race on Saturday afternoon.  A mid-race incident in Turn 10 would send the field to a safety car. With only one lap of green to the checkered flag, and an A-class car separating Castell from the top two B class cars, Castell would have to settle for third.
Sunday's race would prove to be a dramatic battle between three cars for 2nd position. For the entire race, the cars of Steve Bodrug, Connor Wagland, and Amy Castell would trade positions and be nose-to-gearbox – all within striking distance at any corner. Starting the last lap in fourth position, Castell set up a stunning crossover pass in the final corner that led to a drag race down the front straight where she would finish third by half a car length.
In addition to the normal double-header format of the Toyo Tires Formula 1600, there was a feature race bringing together Club Ford, Formula Ford, and modern Formula 1600 vehicles. After qualifying on pole for the race, Castell and fellow racer David Clubine had a hard fought battle for the lead. They kept fans on their toes as they change places countless times; often going through numerous corners side-by-side. A crash by one of the front running cars would lead to the race being ended under safety car.   Castell would lead the field to the checkered flag and earn her first win at Canadian Tire Motorsport Park.
Overall this was an amazing weekend! I learned a lot about strategy and planning ahead and I think that's what allowed us to earn 3 podiums this weekend. The car was on point this weekend and provided me with the confidence to push harder, and make the passes on the outside of corners," commented Castell. "I also have to thank Matt Garwood for being on the radio with me and my dad for making the car a dream to drive. We will build on this weekend's successes and keep pushing to be the best we can be."
The Toyo Tires Formula 1600 Championship Series – the premiere open wheel series in Ontario, sanctioned by CASC Ontario Region. The series is comprised of six double-headers and competes at Canadian Tire Motorsport Park, Shannonville Motorsport Park and Calabogie Motorsports Park.