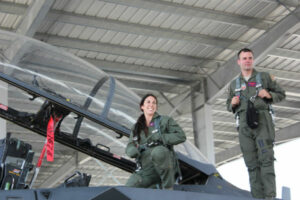 Remember back a few years ago, when I told you all about my *real* passion as a kid?   Well it appears I have found my kindred spirit in the NHRA world…. none other than Patron Funny Car pilot, Alexis DeJoria.
I keep in contact with Alexis and her team regularly for my Women In Motorsports column over on Examiner.com, but this week's email from the team included something WAY out of the ordinary (if you can ever really call 300mph nitro-burning funny cars ordinary).
Alexis had the chance to jump on board an F-16 fighter jet with the USAF Thunderbolts this week, shortly after leaving the Seattle race.    Apparently, it was also HER lifelong dream to have become a fighter pilot, but after something altered her course, she too would take to the land version of piloting a high-horsepower machine by drag racing.   Sound familiar?   I swear, I think I found my new BFF.
As if I didn't already have mad respect for Alexis, what with piloting an 8,000HP nitro-burning funny car to 300mph in less than 4 seconds and all, but NOW I can also add that she's one of the only gals I know that have not just been SUPERSONIC, but  MACH 2 no less.    That's twice as fast as the speed of sound folks.   And if I thought that a 3G launch was pretty intense?  Oh no, Ms. DeJoria has experienced all the intensity of an 8.4G maneuver!
I. AM. SO. UNBELIEVABLY. JEALOUS.   
Alexis also spent about 25 minutes of her hour-long experience commanding the controls the F-16 herself.    As hard as it is to imagine getting to be inside that thing for a 0-20,000 ft take-off in less than 5 seconds, or speeding along in excess of 600mph, or the inversions, verticals, loops, split S', low altitude flying, and barrel rolls that come with these amazing machines, I could not FATHOM being able to move her around the skies myself.
So to Alexis…. I'll be your wingman anytime!