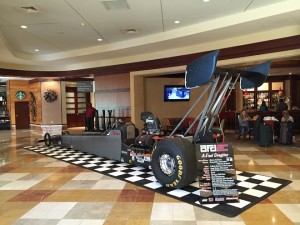 If you're in Indianapolis for the Performance Racing Industry's (PRI) annual tradeshow, you can check out NHRA A/Fuel dragster driver-in-training Marina Anderson and her custom-built dragster at the Marriott Downtown this week.   The display, which started on Sunday and will be in place until Saturday, December 12th.
I'm really excited about the opportunity to have my dragster in the lobby of the Indianapolis Marriott Downtown for the PRI Show. The PRI Show is always a great experience for us to both show appreciation for current partners and meet with potential sponsors. This display is a unique opportunity to expose the Anderson Family Dragster (AFD) brand and our partners to the show attendees and Marriott guests," said Anderson.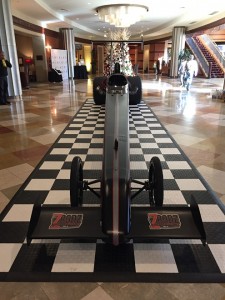 The AFD dragster has been a four-year long family project for the Anderson family with Competition Fabrications.    They completed most of the chassis fabrication, tinwork, wiring and plumbing in-house, leaving the engine preparation to noted A/Fuel tuner Jerry Darien.   Marina is planning for a 2016 competition debut upon completion of the NHRA licensing process.
After testing the car for the first time this fall, we can't wait to see what 2016 brings for the team. We learned a lot this year and I appreciate the way other A/Fuel teams have been open to teaching me and evening allowing me to work on their cars. I am also thankful for my team's hard work to get to this point. I know next year will be a rewarding year because we plan on attending a few of the NHRA regional events."
The PRI Show opens on Thursday, Dec. 10, and runs through Saturday, Dec. 12. Marina Anderson will be available to answer questions and sign autographs by her car display from 8 a.m. to 9 a.m. and 1 p.m. to 2 p.m. on Friday and Saturday of the show.