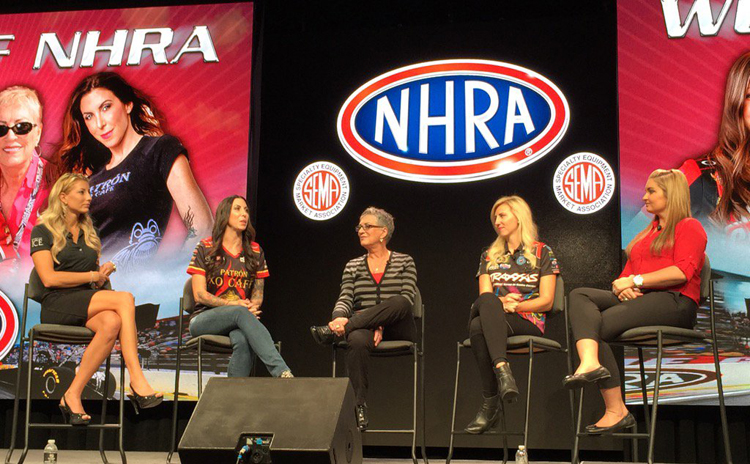 In the motorsports world, drag racing often is regarded as that weird cousin of the motorsport family – the less polished, not as well known, and often forgotten form of the sport that so many just dismiss with a pat on the head to some of the more "regal" motorsport varieties in F1, Indycar, NASCAR, etc.    I mean, to them, we just point the car and hit the pedal… what could we possibly contribute to the motorsport fold that our flashier and larger counterparts don't?
Gender Equality =  NHRA does it RIGHT.
Not only is that stereotype largely untrue, and definitively insulting, but it also prevents the other forms of motorsports from learning a much needed lesson that only NHRA and Drag Racing currently is apt to teach – Gender Equality in Motorsports.
In a day where Indycar has seen only one female winner in Danica, where NASCAR still awaits a winner with very few even able to compete on their prize stage, and in Formula 1 where women still can't even get past the fight to compete in a race, NHRA and drag racing has proven the most successful in creating a Gender Equal landscape in the sport.
They have created a racing environment not only where it is comfortable and accepted for women to compete, but where they win, and win BIG.  Where the topic of being a female is an afterthought and not a question for pre-qualification.   Where diversity programs and special development efforts aren't needed or necessary because they all fit in without preconceived bias and judgement.   Drag Racing could stand to teach the entire Motorsports world a thing or two about diversity.
NHRA's Welcoming Open Access is Key
I have been very fortunately, not only to have had a front-row seat to watch more and more women and girls getting involved in the sport in all aspects- from drivers, crew members, owners and industry professionals, but to have also had the opportunity and access to throw my own hat in the ring and compete myself.   To some, that could label me biased, but instead I think it makes me qualified to voice my opinion:   I truly believe that the open and welcoming access NHRA and Drag Racing provides to the sport is the key to why it has achieved the most success in gender equality.
It wasn't always this way.   Shirley Muldowney led the battle in the trenches in the 1970's for all women in racing.   She fought for and secured not only acceptance, but went on to change the face of Drag Racing by winning races and championships at the pinnacle of the sport.
Countless others followed in all of the classes…. Top Fuel, Funny Car, Pro Stock, Pro Stock Motorcycle.   They continued to break the molds and earn the victories and stood beside men on the stage of success.    The more who came and conquered, the easier the road became to travel.    Although you still hear people stuck in the old-rooted sexist mentality that try and discredit the success of the women by labeling them a by-product of who their family is or who they were romantically involved with, the key has been an organization that chose to embrace women and give them the equal billing they deserved, eliminating many of the roadblocks placed in other forms of motorsports.   And with an organization embracing this culture from the top down, it wasn't long for teams, sponsors and fans to all follow suit.
100+ wins for Women
Last year, the NHRA celebrated the 100th national event professional win by a woman.    One-Hundred.  Not first, not qualified, not made the starting grid.   Courtney Force earned the 100th WIN on the national stage in a professional class comprised of both men AND women.   This weekend, Erica Enders secured her second World Championship in Pro Stock – in dominant fashion, becoming one of many who have also earned this distinction at the top of the sport.      Look down the ladder and you see hundreds of girls and women competing and WINNING in everything from Pro Mod, Alcohol, Comp and down to the the Junior ranks.
And although there will always be roadblocks challenging age-old gender bias for women, drag racing has shown to be the most progressive and evolved of all the forms of motorsports.
Bob Frey put it best at the Women of NHRA Breakfast presentation during the SEMA Show:
From Leah Pritchett – who had won a Nostalgia Funny Car championship in the NHRA Heritage Series, with wins in everything from Jr. Dragster to Pro Mod, and competes in Top Fuel;  Courtney Force – Rookie of the Year recipient, multiple Funny Car winner, and tireless ambassador to the sport;   Alexis DeJoria – Mom, multi-class champion, and all-around badass;   Erica Enders- lethal weapon on the tree, two-time class championship, and prolific Pro Stock winner;  To the one who arguably paved the way for them all, Shirley Muldowney…  the list of accomplishment that these and all the other women in drag racing have achieved is pretty darn remarkable.
but as he best summarized it in closing… "and then you have Danica, who has won ONE race."  
Touchee, Bob.    Not to disrespect or discredit the hard work that all of women who pioneer the motorsports world put in, but maybe it is time that these other organizations stop and listen to Drag Racing and effect change at the organizational level to make ALL genres more gender-equal.