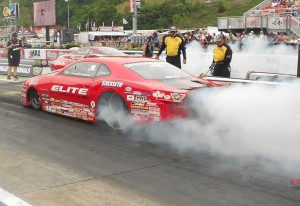 NHRA Pro Stock driver Erica Enders entered the 15th Annual NHRA Thunder Valley Nationals as the reigning event champion, and successfully defended that title Sunday at Bristol Dragway.   The 2014 World Champion fought her way to her fourth final round in five races, ending in the winner's circle for her 16th career win, the fourth of the 2015 season.
 It's always been good to me," Enders said. "I guess every driver has tracks where they go that no matter what you do wrong, it ends up right. But today we earned it. We made really good runs for the heat; it was really hot and tricky out there.
With temperatures in the low 90's all weekend and an altitude adjustment for the naturally aspirated category Pro Stock class, crew chiefs Rick and Rickie Jones and Mark Ingersoll had their hands full as they guided Enders to four quick passes.
My crew chiefs were stressing, but they have this cool, calm, collected attitude, and their confidence comes over the radio in my ears. That in turn gives me the confidence I need to go out there and drive to the best of my ability."
Enders started off by grabbing the No. 1 position in qualifying, running a 6.632 second elapsed time (E.T.) at 207.59 mph in her Elite Motorsports Camaro.  This would be her 16th career pole, and would match her against John Gaydosh Jr. in the opening round of eliminations.
In round one, Gaydosh Jr. would take the slight starting line advtange with a 0.010 second reaction time (RT) to Erica's 0.027 second RT.   But Enders would regain the lead by the 330′ clocks, crossing the stripe with a 6.695 at 206.51 mph to his losing 6.787 at 196.27 mph.   She just missed the quickest pass of the round by 0.001 seconds to Chris McGaha, but would earn lane choice over Jason Line entering the round two match-up.
Enders and Line have a tough rivalry going, with Erica holding a 13-12 career advantage over Jason in previous meetings.   Both drivers know they have to bring their A-game to the starting line, adding to the pressure.   But Line would jump just a fraction to quick, turning on the red light with a -0.027 RT and handing Enders victory.   Her 0.017 RT on the way to a solid 6.698 second ET at 206.64 mph, again just missing the quickest pass of the round by 0.001 seconds to McGaha, but maintaining lane choice into the semi-final round.
She would face Shane Gray in round three, cutting a stellar 0.007 light against him and never trailing for the win, 6.703 at 206.45 mph to his 6.724 at 206.20 mph.  This time, she was able to capture the fastest pass of the round and critical lane choice into the final against McGaha, who was able to best her performances in each prior round by a mere fraction of a second.
As expected, it was a close race in the final against McGaha.   But Enders handled the pressure like a true champion, posting a 0.025 second RT against his 0.055 second RT, as they both ran side-by-side, her 6.685-second pass at 206.95 mph to his 6.689-second run at 207.46 mph.    At the finish line, it would be Enders with the win, the margin of victory 0.0349 seconds (approximately 11 feet).
You have to learn to win, and that's something I never understood until we did it," Enders said. "Greg Anderson and Jason (Line) had mentioned that to me when I was first starting, and I didn't get it until we finally did it. You just learn how to handle yourself in those high-pressure situations. It's a challenge, for sure, and you've got to remain positive in your thoughts, and that's been a huge part of our success."
Securing the back-to-back Bristol victory would propel her into the No. 1 position in the Pro Stock points chase leaving the event.   She holds a 14-point lead over rival Greg Anderson heading into the next event on the tour:  the upcoming Independence Day weekend 9th Annual Summit Racing Equipment NHRA Nationals in Norwalk, Ohio.
My guys are absolutely incredible," Enders said. "They never cease to amaze me. I wouldn't be where I am without them. This is the first team I've ever worked for where we've had a unified front and they have my back. I'm blessed to have an incredible group of men, and the chemistry is there. It's always a positive environment."