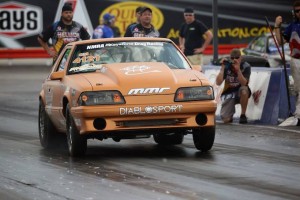 Norwalk Coyote Modified Victory for rookie James
National Mustang Racers Association Coyote Modified drag racer Haley James picked up the second win of her career at the 12th Annual McLeod Racing NMRA Ford SUPER Nationals in Norwalk, Ohio this past weekend.    The 18 year-old recent high school graduate began this season in Bradenton, FL as a complete drag racing rookie.  Since then, she has made quite a statement, securing the top spot in the ultra-competitive Coyote Modified class.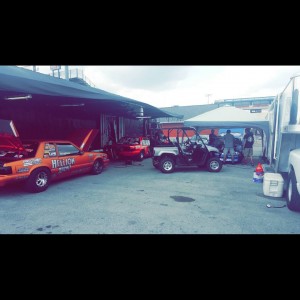 Weather would prove to be a big factor in the weekend's events, as Haley and the Hellion Racing team would fight hot and muggy tuning conditions, with frequent racing rain delay interruptions.   Friday's first test pass resulted in no-traction, and Haley blew the tires off in an aborted run.    Round one of qualifying, she was able to post an off-paced 8.483 second elapsed time at 162.18 mph, but rain would stop the round before the class completion and end the day's racing action.
When racing resumed Saturday, Haley improved her position slightly, earning the No. 1 qualified position with an 8.400 second E.T. at 162.12 mph.  This would give the rookie a competition bye in round 1 of eliminations on Sunday.   She would use the round to blast off an 8.524 second at 161.44 mph performance, securing lane choice for round number two.
For the next pairing, James would face the 2014 Mustang of No. 4 qualified Ronnie Reynolds.   Reynolds had ousted Haley in the previous Maryland race during a staging battle that saw her 'creeper button', the button used to initiate the staging sequence for the turbocharged car, malfunctioned.    Haley was anxious to avenge the loss, and earn her way into the final.    Both racers would leave the starting line together, but Haley quickly powered her way out front to a 8.442 second E.T. at 161.96 mph to his losing 9.389 at 151.14 mph.
Norwalk Coyote Modified Final
The win in round two would pair her in the final round against veteran racer Johnny Lightning, the number two qualifier.    Rain continued to plague the event, but between rain clouds, the two top-ranked competitors were able to face off and complete the final round.   Johnny Lightning would leave with a slight starting line advantage, and the two were side by side until the eighth mile marker.   But a faulty throttle cable would cause Lightning to abort, and Haley thundered on to the win with a 8.463 at 162.16 mph to his losing 9.051 at 120.32 mph.
Watch Haley James vs Johnny Lightning in the CM Norwalk Final
Haley James leaves the event with the No. 1 position in NMRA Coyote Modified championship points.   The next event for the team will be the 10th Annual NMRA/NMCA Super Bowl of Street Legal Drag Racing at Route 66 Raceway in Joliet, Illinois on July 30th-August 2nd, 2015.