Harland Sharp Roller Rockers
Harland Sharp has been involved with Horsepower & Heels Racing since 2004, providing top-knotched engine performance for Erica's 331CID drag radial coupe as well as a complete set of rockers for her BBF application.
Company Overview
Harland Sharp has been in the business of high performance roller rockers for over 50 years.   As the world of racing has continued to change
throughout the decades, Harland Sharp has yet to lose focus; the highest quality Made in USA performance parts.   With great pride in knowing that your aftermarket valvetrain parts are coming right from the USA and NOT overseas, Harland Sharp is a small family owned & operated business.   They hand inspect and pack each rocker arm before it leaves.  With a lifetime guarantee against manufacturing defects, it is no wonder that more racers choose Harland Sharp than any other brand.
Products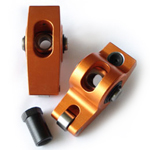 Harland Sharp manufactures 3 different style rocker arms and accessories for a wide array of engine combinations.    Their Original Series was first developed and created
over 50 years ago, now providing increased power and performance to your valve train with improved strength, weighing in lighter than most other conventional rocker arm designs.
The Diamond Series is the most recent addition to the Harland Sharp family of roller rocker arms.  By literally "cutting off" the corners in structural design, they eliminated over 100 grams of weight.   The Diamond Series is the perfect solution for any engine builder or racer looking to build a truly lightweight, yet dependable high performance valve train, a surefire way to increase net horsepower.
The HD Series is designed for high spring pressure and high lift geometry.  , Harland Sharp's Heavy Duty Series can withstand over 1,000 lbs of spring pressure.  The wider body design is engineered to provide increased strength & longevity to your engines valve train. Independent tests have shown the Heavy Duty Series body can withstand over 10 tons of pressure before showing signs of stress.   These rockers are for use in hardcore racing applications and highly modified performance engines.
In Action
The Horsepower & Heels Big Block Ford combination features Harland Sharp's Big Block Ford Shaft Mount 7/16″ Roller Rockers with their stud girdle.    In the past, Erica's small block 331CID engine program also featured the small block version original series rocker arms.    Looking for your application?   Find yours in their online product guide or request a free catalog.  They can be purchased at these fine distributors near you.
Contact Information
19769 Progress Dr.
Strongsville, OH 44149
Ph: 1-440-238-3260
Fax: 1-440-238-2204
Hours:
Mon-Thurs: 7am-4:30pm EST
Friday: 7am – 11am EST
Warranty/ReturnsAccounts Receivable – [email protected]
Advertising/Marketing – [email protected]
Custom/Diesel Rockers – [email protected]
Tech – [email protected]