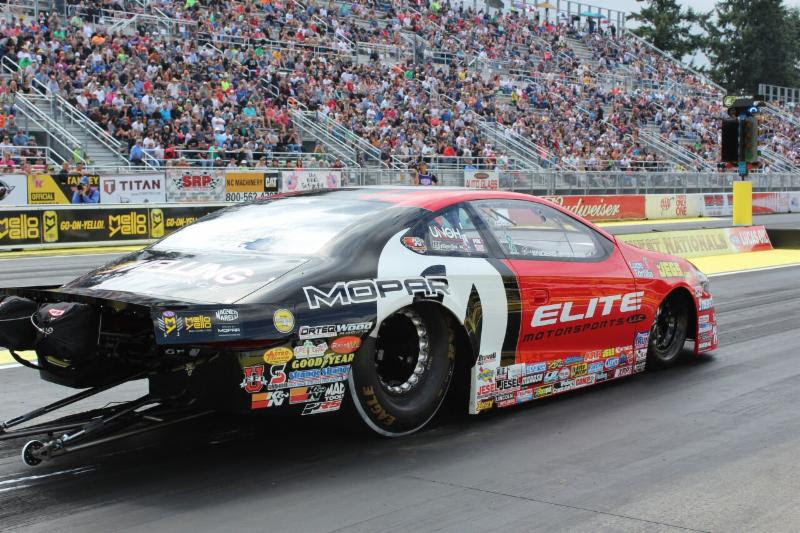 When the pressure is on, champions rise to the occasion.  A key holeshot win for Erica Enders in Seattle this weekend helped push the reigning NHRA Pro Stock World Champion into Countdown contention.
When Erica Enders and her Elite Motorsports/Mopar Dodge team needed to have a good performance in the opening round of the 29th annual Protect The Harvest.com NHRA Northwest Nationals presented by Lucas Oil on Sunday at Pacific Raceways, they got the job done.
Enders ripped off a .009-second reaction time against Alex Laughlin, winning a crucial round despite a slower elapsed time. And in beating Laughlin, who came into the race 10th in the points standings, Enders took over 10th, the final spot in the Countdown to the Championship.
"I said in my interview at the top end that it reminded me of the U.S. Nationals last year, racing Greg Anderson in the semifinals, where the winner of that round got to go into the Countdown in the No. 1 position," Enders said. "If I've said it once, I've said it a million times: Under pressure, we are awesome together."
Enders' pass was 6.581 seconds at 209.39 mph, but her .048-second advantage on the starting line was enough to hold off Laughlin's 6.569 at 210.90 mph.
 "My guys gave me a good race car," Enders said. "It wasn't a great run. We feel like we could have definitely gone a .56 out there first round, and it was important to put a little bit of a spread on Alex. It's not a big spread, but we will take what we can get at this point."
Enders now unofficially leads Laughlin by nine points with two races before the Countdown.
Enders had another excellent reaction time in the second round, .031, and was in front of No. 14 qualifier Aaron Strong before she had engine issues. Strong had beaten No. 3 qualifier Greg Anderson in the first round.
"We got a break with Greg going out first round," Enders said. "Performance-wise, we had him covered a little bit and shoulda, coulda, woulda gone to the semifinals at least today. Jeggie (Coughlin Jr.) and I had a chance to meet up in the semifinals. He had Bo (Butner) covered three-hundredths on the Tree, I had Aaron covered five and a half and everything went away."