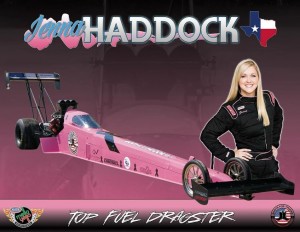 This weekend's 51st Annual Auto Club Finals marks the conclusion of the 2015 NHRA Mellow Yellow Drag Racing season.  For rookie Top Fuel driver, Jenna Haddock, it marks the end of an amazing first year in the premiere professional class of the sport.    As the season comes to a close,  Jenna looks back on her season and rates her year as driver of the 'Boots For Troops' Top Fuel Dragster in her trademark exuberant and sincere fashion.
"Everyone rates on performance," explained Haddock, "but there is so much more to take into consideration.  As a driver, I didn't have much experience.  I never drove anything in competition.  I'm proud that we qualified at eight out of the 11 races we ran.  And we did it with only six team members when other teams have 12.  We lost our sponsor mid-year so we did it with no money.  We did it with friends, family and a lot of hard work and determination.  And I'm grateful for everyone that helped.  When I rate out first year, I'd say we had a phenomenal year.  Without money, our car performed really well and I cannot be sad.  I'm proud to say our car is good."
The Auto Club Road to the Future candidate posted her career-best of 3.850 sec. at 311.63 mph in her first-round match-up against Antron Brown at the previous race in Las Vegas.  Though she couldn't hold off the new 2015 Top Fuel Champion for the win, she was still  thrilled at her performance.
"In qualifying in Vegas, we kept throwing the blower belt," Haddock said.  "But if you look at our half-track numbers we knew it was going to run.  We run used belts.  We can't buy all new ones like most teams.  Most of the time our belts have four to five runs on them.  We rather buy new crankshafts, pistons and connecting rods.  Those things come before blower belts for us.   On Sunday morning a bunch of teams brought us their belts with only one run on them, which was so amazing.  So for us when that 3.850 came up on the board; Sunday took the cake."
Haddock's husband, Terry is a long time Funny Car driver known for competing on a very limited budget and for never giving up.  This year, he put his car on the back burner and concentrated on launching his wife's career.
"I really have to thank Terry for his unending support," expressed Haddock.  "He helped me learn how to drive and he was a great and patient teacher.  This year has been all about me, and his car hasn't gotten much attention.  He made sure that everything came much easier to me than it ever did to him.  He's been great about it and I love him for it."