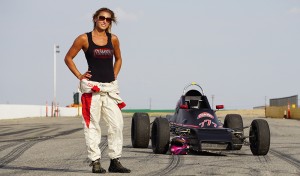 NHRA racer Leah Pritchett is trading in her Top Fuel firesuit for a thinner road racing variant next weekend (Oct 9-10).  The Gumout standout is set to drive a vintage Formula Ford open-wheel car in the Vintage Auto Racing Association "Shootout at the Ranch" at Spring Mountain Motorsports Resort Ranch and Country Club, in Pahrump, Nevada.
Leah Pritchett in Formula Ford
Pritchett, a semi-finalist in the "Gumout Lady in Car" Top Fuel dragster at the NHRA Carolina Nationals two weeks ago, switched gears to train in a Formula Ford testing session at Willow Springs Raceway north of Los Angeles recently, in preparation for her road racing debut in the 'Shootout at the Ranch.'
"Going from a 325-mile per hour Top Fuel dragster to a tiny 135-mile per hour Formula Ford road racing car is a drastic change for me," said Pritchett, runner-up in this year's NHRA Southern Nationals near Atlanta. "But I really have enjoyed the challenge of hitting the apex and shifting through the gears. In the Top Fuel car, the race is over quickly…. Under four seconds.  In the Formula Ford, you have to concentrate much longer and hit your marks. The racing is different but just as tough mentally."
Pritchett, the 27-year-old California native who resides in Avon, Ind., began her racing career at age eight in the Junior Dragster division and worked her way through the smaller ranks before making it to the ultimate drag racing class, Top Fuel, in 2013.
Road Racing limited future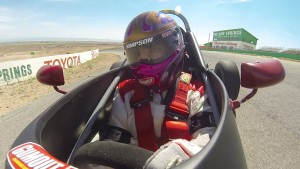 NHRA fans can relax, as Pritchett has no plans to abandon her drag racing roots.    The veteran drag racer will return to the Las Vegas area three weeks after the Formula Ford event to compete in the NHRA Toyota Nationals at the 'Strip" at the Las Vegas Motor Speedway when Pritchett drives the Gumout 'Lady in Red" Top Fueler for Dote Racing on Oct. 30-Nov. 1. Last year, Pritchett qualified fifth and took her mount to a semi-final finish at the "Strip."
"I am not changing my career to move into the road racing ranks," Leah said. "I'm a drag racer through and through. It's something I wanted to do since I was six or seven years old. At age 12, I knew I want to race professionally. Now, this Formula Ford race is a unique opportunity to try another racing skill set. I have enjoyed the new challenge already."
Switching from the incredible g-force on acceleration of the 1,000-foot straight line track in the National Hot Rod Association, to the 3.1-mile road racing complex will be pushing new limits for Pritchett.  The road racing track at Spring Mountain Motor Resort & Country Club has a combination of fast sweeping corners, quick esses, off-camber turns, and over 125-foot of elevation change.  But the course features four high-speed straights that should be more familiar to the drag racer.   The new racing facility northwest of Las Vegas incorporates replicas of some of racing's most famous corners including Mosport's 5a and 5b, Watkins Glen's "Bus Stop", and Road Atlanta's turn one and Laguna Seca's "Corkscrew."
"I know this Nevada track will pose a variety of challenges," said Pritchett, a Cal State University communications graduate. "I have been thinking about the Formula Ford race almost every day recently as the weekend approaches. The training I received at Willow Springs was a great asset as I prepare for the Formula Ford race. It is a different mindset from the drag racing experiences but I feel I can use some of my racing thoughts and reflexes from the drag racing to the road course. I'm very excited about this new challenge."
Practice and qualifying are set for Friday (Oct. 9) and the Formula Ford main event is scheduled for Saturday (Oct. 10).
Watch Leah Pritchett in Formula Ford Teaser