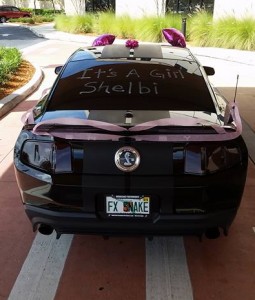 There's only one way to make your first official grand entrance, and for newborn baby girl Shelbi Leigh, that can only mean one thing: a high-horsepower homecoming in her namesake pony.  
Shelbi Leigh meets Shelby GT
Born on September 27th, little Shelbi Leigh was greeted at the Orange Park, FL hospital doors on discharge day by her awaiting first ride, a beautiful Shelby GT500 Mustang.   Fully-decorated for her arrival and homecoming by her grandparents and extended family, the car was decked out with pink balloons, pink streamers and window paint that celebrated with "It's a Girl: SHELBI" on the rear glass.
Generational Gearhead Blood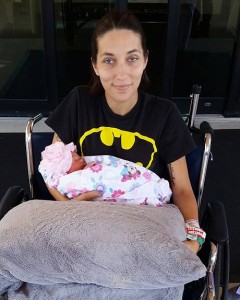 The memorable occasion was fitting for the newest member of a multi-generational gearhead family.    For years, they have been involved in high-horsepower rides and racing, passing down through the family, and making certain that little Shelbi is destined to become the next generation horsepower princess in a legacy of high-octane memories.
Shelbi's proud grandma Angie said the idea came from one of their racing family's patriarch.     For many years, the family traveled and raced with the Gullett family in Fun Ford Weekend Pro 5.0.
"[It was] the late Big John Gullett that impressed this amazing tradition that he did with his grand babies, bringing them home in his 55 Bellair street car or his old Ford F100 pick-up. So we decided to start our own tradition with our grand children.  Our first just so happened to have the name Shelbi.. so it was perfect."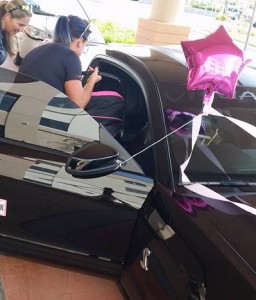 Shelbi's namesake Mustang belongs to her grandpa, 'Big Poppa' Paul.    Though there were no burnouts or smokey drifts on the trip home, the new family enjoyed the rumble of the GT500's exhaust to welcome sweet Shelbi Leigh home.   They said they plan to continue the custom, adding they hope to bring out the Shelby GT500 tradition "for birthdays, dances, "chaperoned" dates, prom, weddings and then.. our great grand babies to come home from the hospital in."
Welcome to the world, our future fierce Horsepower & Heels standout, Shelbi Leigh!