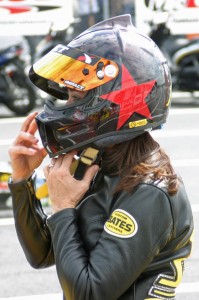 NHRA Pro Stock Motorcycle driver Angelle Sampey and her Star Racing team just announced a new event sponsor for the upcoming 46th Annual NHRA Toyota Summernationals in Englishtown, New Jersey.  Platinum General Construction Services joined the Star Racing team as an event sponsor after owner Ralphie Navarro visited the three-time world champion's new crowd-funding program, JoinTeamAngelle.com a sponsorship initiative for fans to get involved with the team.
With sponsorship through the JoinTeamAngelle.com campaign, Platinum General Construction Services will have its logo featured on Sampey's Star Racing motorcycle during the event. Other perks include pit uniforms for Platinum General Construction Services staff members, meet-and-greet time with Sampey and the Star Racing team and tickets to all sessions of the Toyota Summer Nationals event.
When I first saw the opportunity that Star Racing and Angelle were offering through the JoinTeamAngelle.com website, I knew right away that it would be a great fit for us because it offers affordable access to a major sponsorship with benefits our staff can enjoy," said Mr. Navarro. "I've been looking for a special event opportunity to share with our staff. We have a great team of people who do such a terrific job every day, and the chance to share a weekend of NHRA racing with the Star Racing team is one I couldn't pass up. Plus, I've been a big fan of Angelle over the years. She's a true superstar in this sport. Star Racing is one of the all-time great teams in NHRA, and this was an opportunity for me to be able to step up and make a difference for them."
Employee Hospitality
Select employees of the New Jersey-based Platinum General Construction Services company will get the opportunity to experience the activities at the Toyota Summer Nationals event. Star Racing will be hosting the Platinum General Construction Services staff in the team's pit area, and they will have the opportunity to see what takes place behind the scenes as Sampey and the Star team prepare to race.
What makes this event sponsorship with Star Racing and JoinTeamAngelle.com so special is that they are going to be sharing time with us and taking us inside their racing operation," said Mr. Navarro. "I want to compliment Star Racing on the JoinTeamAngelle.com program because it offers our company a number of advantages through our sponsorship. This type of opportunity is totally unique and I would encourage other smaller or mid-sized companies to visit JoinTeamAngelle.com. Platinum General Construction Services is proud to be a part of Team Angelle, and we are counting the hours until we get to the track."
Star Racing team owner George Bryce was able to put together a custom program that fit the needs of Navarro's company.
Quite obviously, we are thrilled that Raphie Navarro and Platinum General Construction Services will be joining us through the JoinTeamAngelle.com campaign at the Toyota Summer Nationals as an event sponsor.  When Ralphie contacted us about what he had in mind to celebrate the work of his staff, we immediately began working with him on designing an event sponsor package that would create a meaningful and memorable experience for his company. We want to salute Ralphie as a sponsor and as a business owner who sincerely cares about his staff. One of the advantages we have with the JoinTeamAngelle.com campaign is that we can customize sponsor packages for an event, a series of events or the entire season."
Approaching Crowd Funding Goal
The JoinTeamAngelle.com fan sponsorship drive has continued to gain momentum since the program debuted in mid-May during the NHRA Atlanta Dragway event. Currently at the 70% threshold, the campaign is on-track to reach its initial $30,000 goal in its first 30 days.
It's been quite gratifying and quite humbling to see the response we have received in the first couple of weeks following the announcement and debut of JoinTeamAngelle.com," said Mr. Bryce. "We have seen our fans engaged in ways that I've not seen in my 40 years in racing. Through the website, fans are watching our videos, reading our blogs and getting a sense of what happens on the inside of a racing team. We've also seen small and mid-sized businesses approach us concerning sponsorships that are financially reachable and provide value for their organizations. The campaign has given our team tremendous momentum and we are excited about the possibilities for the season."