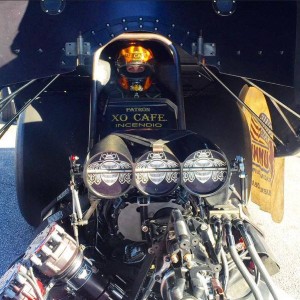 NHRA's Alexis DeJoria, driver of the Patrón XO Café Incendio Toyota Camry Funny Car, struggled in qualifying for the second consecutive weekend at the 4th Annual AAA Insurance NHRA Midwest Nationals in St. Louis, MO.   She was able to regroup and recover on eliminations day, but bowed out in the second round
Lackluster Qualifying Position
After a 4.073 run in her second qualifying attempt, Alexis DeJoria was unable to make her way cleanly down the track in qualifying.   That 4.073 second pass was good enough at the time for the sixth provisional spot, but was bumped back into the 12th position before racing began on Sunday.
Second round loss for Alexis DeJoria
Her first round match up would be against Tommy Johnson Jr., who had eliminated her just one week prior in Charlotte.   DeJoria was ready for a chance to return the favor, and the pair left together at the tree.   She would charge ahead by the finish line, running her first three second pass on the weekend and defeating Tommy Johnson Jr, 3.966 second E.T at 292.77 mph to his losing 4.332 second E.T. at 211.49 mph.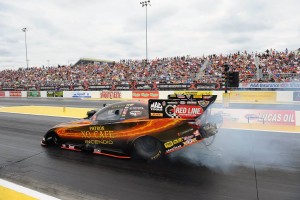 In the second round she would face Ron Capps.   Although she posted another consistent light, traction issues returned and the Patrón XO Café Incendio Toyota Camry Funny Car fell to tire smoke before half-track against Ron Capps, resulting in a second round loss for Alexis DeJoria.
"Very much like our last weekend in Charlotte, we did not qualify the best but we got in the show and that is all that matters," said DeJoria. "In the first round, we ran our best time of the entire weekend and won the round. We went into the second round and shook the tires. I still feel like we can do something in these last few races. We are just trying to find that consistency. I have to just keep sticking to my guns and work on my part and hope the best. I have the upmost faith in my team and I know we will have something for them in Reading."
Alexis entered the weekend 7th in points for the Countdown to the Championship.   She leaves the event in the same position, 204 points outside of the leader, teammate Del Worsham (unofficial results).