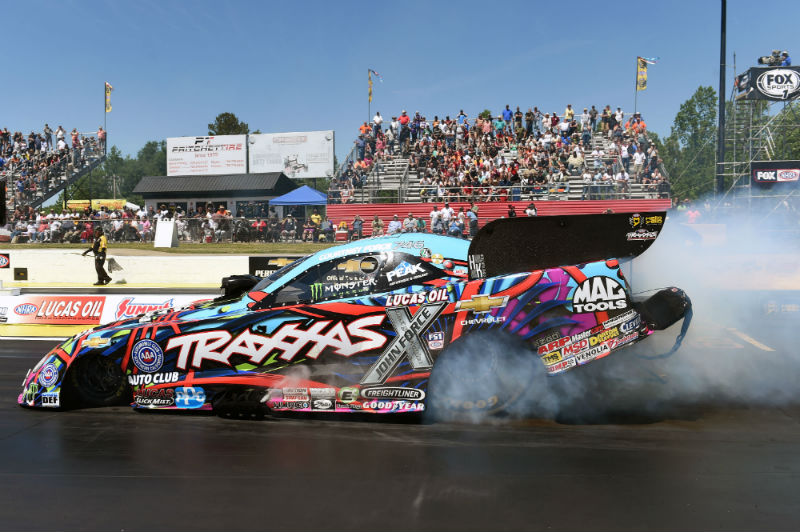 NHRA Funny Car driver, Courtney Force, ended a six-round consecutive win streak with a semifinal finish in Atlanta at the 36th annual Summit Racing Equipment NHRA Southern Nationals.
It was a great race day for our team. We didn't go home with the win here in Atlanta but definitely made some really strong passes out here this weekend in the heat and in cooler conditions. Those kind of runs really excite this Traxxas team. We have a good car and we had some tough competitors today," said Force.
Force, the 2012 rookie of the year, qualified in the No. 3 position for the second race in-a-row, entering eliminations with the Funny Car class points lead. This was the highest starting spot for the Traxxas Chevy Camaro team at Atlanta Dragway.
Force lined up beside her 32nd different Funny Car opponent, Jeff Diehl, in the opening round. She posted a 3.915 ET at 327.74 mph. She took the win, but this unfortunately paired her against teammate Robert Hight in the second round.    She advanced over Hight with a 3.950 ET at 327.35 mph to his tire-smoking 8.205 ET at 88.55 mph.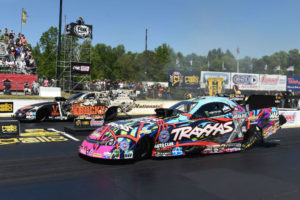 Force matched up against Matt Hagan in the semifinals without lane choice. Her Traxxas Chevrolet Camaro SS Funny Car smoked the tires and Hagan advanced.
Force is leaving Atlanta with the points lead for the second race in-a-row.
"We laid down some pretty solid numbers but then lost lane choice going into the semifinals. We hit a bump in the left lane and spun the tires against Hagan. We were a little worried about it but we tried to put the same set-up we had for qualifying," said Force. "We are going to just have to try and figure that lane out next year. We are going to move on to the next race in Topeka. We are just excited we are going home with the points lead and we learned a lot this weekend. I am really proud of how this Traxxas Chevy went down the track every run except for one this weekend."
The winningest female Funny Car driver was tied with veteran Tim Wilkerson for the lead in the Funny Car point standings coming into the weekend, but was able to take the lead via bonus points on Friday.  Force picked up a total of seven bonus points throughout qualifying for being the quickest of Q1, third-quickest of Q2, and quickest of Q3.
The 27-year-old driver went to the final round at Atlanta Dragway in 2014 after qualifying No. 8. It was her ninth career final round in Funny Car.