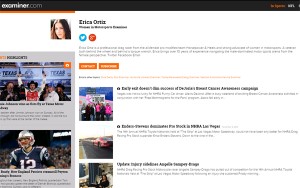 Editor Update, May 2015:   My writing efforts for women in motorsports have since moved to THIS website.   But I invite you to view the collection of over 400 articles still archived on Examiner.com
Back in August 2010, I took an assignment as the Women in Motorsports Examiner for the news website, Examiner.com.    In the past 4 years, I've written over 400 articles promoting women's racing news, acquiring info as often as possible to educate the public about the wonderful accomplishments and the diversity of women in the racing world.    The collection of articles spans everything from drag racing, IRL, NASCAR and even the junior ranks and karting.
Every woman I find out in the racing world, I've offered to cover their news and asked to be added to their press release database so that I can share their news with the world.   Its a labor of love, not a job, and something I'm very passionate about.    For racers, its a source of publicity for yourself, your team and your sponsors.  For women in racing as a whole, its an opportunity to put the cause in the spotlight and show the mainstream just how big an impact we are making in the motorsports world.    Features range from high profile stars like Danica Patrick and the Force girls to young start-ups trying to make a name for themselves.   No matter the news, if its related to women competing, it deserves to be shared.
Subscribe to Women in Motorsports Examiner
Want to stay up to date on the latest news, features and other Women in Racing headlines?   One great way to support women in racing is to subscribe to the column (for free), and get new articles delivered to your inbox!   (And my thanks for supporting the cause!)    I also appreciate the shares and comments on the articles.  That helps get the good word out to the masses!
Send News, Stories, Updates and Features
Know of a racer who needs to be included?  Send me their news information or comment below!   My inbox is always open for press releases and photos, story ideas and any other info related.