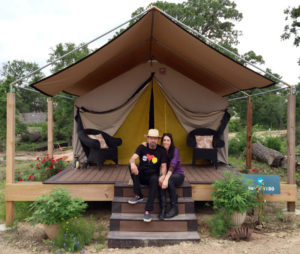 NHRA Funny Car Drag Racer, Alexis DeJoria accepted the Sustainable Food Center's prestigious Sustainable Food Changemaker Award today during the 9th annual Farm-to-Plate fundraiser at Barr Mansion in Austin, Texas.
2016 Sustainable Food Changemaker Award
The 2016 Sustainable Food Changemaker Award is being presented to the Austin-based Peace, Love & Happiness Foundation, established by Alexis DeJoria's father and fellow Austin resident, John Paul DeJoria.
Alexis DeJoria, a recent Peace, Love & Happiness board inductee, proudly accepted the award on behalf of her father and his renowned organization. Since its establishment in 2011, the organization has committed to developing a sustainable planet through protecting animals and conserving the environment. Projects range from Grow Appalachia, the largest gardening project of its kind in the U.S., to Mobile Loaves and Fishes, a community village for people struggling with homelessness in Austin.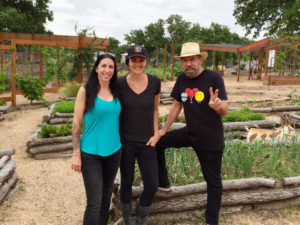 According to Ronda Rutledge, Director at the Austin based Sustainable Food Center, the award signifies and honors the DeJoria family's commitment to sustainable agriculture and food production and security.
We chose JP's Peace, Love & Happiness Foundation because of John Paul's commitment to sustainable agriculture, understanding the huge role that food production has in environmental stewardship," said Rutledge.
The Peace, Love & Happiness Foundation has partnered with the Sustainable Food Center since 2012, sponsoring their teaching garden as part of their capital campaign. In the garden, school children join with the community to learn sustainable agriculture practices and gardening tips.
Alexis recently joined our board, and she has already been very involved in our projects — from volunteering on the ground level to conceptualizing new directions for investment," said Constance Dykhuizen, Director of Peace, Love & Happiness. Dykhuizen added, "Her heart for protection of the environment fits in very well with John Paul's long-standing commitment to sustainable food."
DeJoria, a professional race car driver competing in the NHRA Mello Yello Drag Racing Series, has adopted her father's philanthropic credo of 'giving back whenever possible.' From her efforts with Sallie Latimer's water tower restoration fundraiser to her Free Mammograms for the Fans program, DeJoria considers it an honor to be able to accept the Sustainable Food Changemaker Award on behalf of her family's foundation.
"Our family has been involved with many charities over the years, and I'm very fortunate to sit on the Board of Directors of the Peace, Love & Happiness Foundation. We donate our time, as well as financially, to various charities all over the world. I'm honored to be able to accept this award on behalf of my father, right here in our hometown," said the Dripping Springs resident.