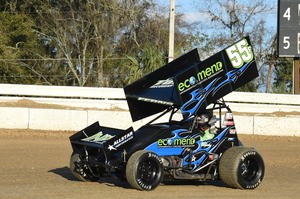 Although it won't be the  first time for Taylor Ferns at Plymouth Speedway, there won't be much familiarity for 20 year-old sprint car racer entering this weekend's Engine Pro Sprints on Dirt event.    Since her last visit to the Indiana track, it has undergone a conversion from a half-mile paved configuration to three-eighths-of-a-mile dirt format.   Her last appearance at the track was at the wheel of a midget three years ago, and returns this weekend aboard the Eco-Mend/Jimmy's Towing Maxim, a winged sprint car.
Taylor Ferns ready for Plymouth Speedway
Saturday, May 16th begins the action for the Engine Pro Sprints event, presented by ARP.  A full racing program is on tap for the winged 360-sprint car series based in Michigan.  Taylor's last 360-sprint car experience came last fall at Waynesfield Raceway Park in Ohio, where she won a heat race and started eighth in the main event. Contact with another car led to a flip on the second lap, which ended her night.
Going from a 410 (sprint car) to a 360 (sprint car), I think easier than going from a 360 to a 410," explained Ferns. "Everything happens a lot slower in a 360, and it is easier to adapt. A big difference is that they usually draw for starting spots in a 360, so you have to try to pass a lot of cars in order to get a good starting spot in the main event."
Previous track experience of little value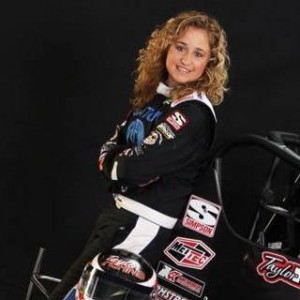 Ferns' most recent start at Plymouth in 2012 with the Honda USAC National Midget Series yielded a third-fastest qualifying effort for that event, her best-career qualifying effort with the series. She ran fourth in a heat race, finishing 10th in the main event. During the same season, she also raced with the JEGS/CRA All-Stars Tour.
Prior to that, Ferns competed in a co-sanctioned race with the USAC D1 Midget Series and STARS National Midget Series, finishing 10th in a 40-lap feature, after winning a heat race in 2011. She made her debut at Plymouth in 2009, with the Kenyon Midget Series.
Having been to Plymouth before will help, but that's probably about the only thing we can take away from our last trip there to this time," said Ferns. "It's going to be a completely different experience. We've had a tough start to the season, so we are looking to get things turned around at Plymouth."
Last weekend, Ferns raced at Eldora Speedway in Ohio, which featured both the World of Outlaws Sprint Car Series and Amsoil USAC National Sprint Car Series in the "Mother of All Sprint Car Weekends." Though she would finish ninth in the third heat race and wound up 14th in the B-main during the Friday opener, she encoutnered engine trouble in time trials Saturday that forced her to scratch for the remainder of the race program.
Two weekends ago, Ferns competed at Atomic Speedway in Ohio with the Ohio Valley Sprint Car Association. She finished fourth in the first heat race to transfer to the main event. In the A-Feature, she finished 17th.
We have been trying some different things, so hopefully we can have a good weekend and everything will go smoothly," said Ferns. "We have had so much going on this year and haven't been able to catch a break, so a smooth weekend is what we are after."