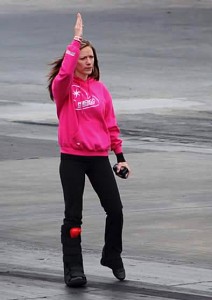 With 13 years experience in the pits, 7 of those for one of the most successful Super Street Outlaw programs on the planet, and a 'Crew Member of the Year' title to her name, 30 year-old New Mexico resident, Melissa Urist continues to crush assumptions with her class-winning knowledge and wrench-turning skills.
The Early Years
Growing up, Melissa was always surrounded by a love for cars.    Her father an avid Mustang enthusiast, he always had more ponies than Melissa could even remember.   His passion and auto enthusiasm was passed down through the family; first to her brother, and eventually taking hold of Melissa herself, who wanted to follow in her brother's footsteps.
It began with local car cruise-ins to a popular hangout called Blue Top, an establishment frequented by the muscle car crowd in her suburban Chicago hometown.  From there, she would venture to the race track with the family.   Drag Racing wasn't love at first sight for Urist, who said that the dragstrip took time to grow on her, "mainly because at that time, I wasn't even old enough to have a learners permit," she says.  She began learning the basics from brother Johnny Leslie- who competed in the National Mustang Racers Association (NMRA)- changing tires, fly wheels, clutches, rear ends, etc. for his Factory Stock class Mustang.  Soon, drag racing became an obsession.
Partners in Life and Championships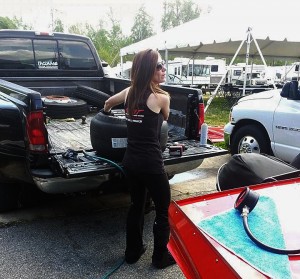 8 years later, Melissa would meet NMRA racing standout, John Urist of Hellion Racing at the Performance Racing Industry (PRI) tradeshow.  Teamed with John, who would not only become her racing partner, but her husband and partner in life, she learned what it took to crew a championship winning Street Outlaw program, from valve train to engine maintenance and all the other round preparation tasks of a top-caliber team.   She and one other member serve as the entire working crew on the car, a fact that put many in disbelief.
I would have to say most people who pass through our pits assume that I don't know much about the car or that because the pit is filled with more men than women that I'm just there to film, no actual labor on the car," she says of her role as main crew member.   "I don't come right out and tell people that I have a major hand in the car because I let my work speak for itself. I'm lucky that my husband will tell people himself how during a typical race weekend, he does no work on the car himself besides tuning, and that myself and Mike King do 100% of the work."

From loading the Hellion hauler in preparation for its cross-country travel to races, to her flying into the track for set-up and tech, checking over the engine and fixing problems that arise, maintenance between fueling, water, ice, spark plugs, battery charging, towing the car to/from the race surface, and lining John up for each and every run, there isn't much Melissa doesn't have a hand in on the car's upkeep.
…Most just assume that if you're a woman at the track, you're there for attention only. I honestly don't walk the track that often at races, I stick to my pit, work on the car, chat with our crew members, talk about our plan for the next pass with my crew and worry about my daughter. I think it's an awesome experience when you can talk cars with people who pass through your pits and they commend you on your knowledge of cars, throwing in that they didn't expect that. I feel like maybe with that experience, they will treat the next female with a little more respect."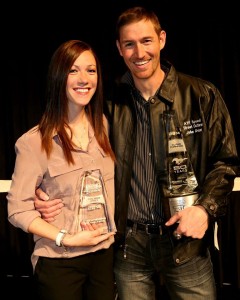 Melissa propelled John to countless wins in the class, culminating with six Super Street Outlaw Championship titles, and earning the coveted NMRA 2014 Crew Member of the Year title for her work.
This [Crew Member of the Year award] was so special and unique to me because I believe I'm the 2nd woman in the NMRA to have ever won this award," she said of the honor. I really hope that someday my daughter will race and feel confident in what she's doing because her mom has shown her that it is possible."
Melissa Urist: Super Mom
But her work doesn't stop there.   Since the arrival of their daughter Lauren in September 2012, Melissa also handles getting the entire house ready for the Grandparents to watch while her and John are away at the races.   Between her crew duties, she is making sure everything is 100% ok at home and that there are no issues with their daughter.
I was blessed to grow up with Super Mom-I mean that! My mom can juggle 4 children with crazy busy schedules like she's baking a cake. It always came so natural to her, (and I struggle with 1!) that I said when situations get tough, I need to channel my own Mom. Growing up with her has turned me into the best Mom/wife/daughter I could be."
Melissa and John are sure they will continue the family legacy with the next generation of racers.  Already car-savvy at the tender age of 2, Lauren is wasting no time following right behind her mommy and daddy's footsteps.
Family is everything. With that said, you can have a family AND race. 9 days after our daughter was born, we loaded up in the motorhome and drove from Albuquerque, NM (where we live) to Bowling Green, KY for a race and won the championship. It was the most exciting and exhausting weekend of my life. I committed to responsibilities on the car and didn't want to give them up so I'd feed our daughter, put her in her baby rocker and work on the car. Thankfully, at 9 days old, she found the sound of cars going down the track to be lulling and slept, literally, like a baby. Her entire first year and a half, she was at every race no matter what. Motherhood doesn't mean your life stops, it means you get to pass this love of cars onto your own children. Getting them involved is, in my opinion, the best way to continue to do what you love AND you don't have to give up those precious moments with them. My daughter pops the hood on her mini- Boss 302 and shows us how she works on cars. She's also obsessed with looking under the hood of our 2015 and pointing out the turbos."
Taking a turn at the wheel?
Despite over a decade at the track, Melissa has never taken her turn behind the wheel.   She stated that this is something that is soon to change, and is looking forward to her first trip down the track herself.     She will hit the track in a Hellion Twin Turbo 2015 Mustang, and has her eye on the NMRA's Turbo Coyote Shootout held in Bowling Green and the NMRA All-Female shootout in Ohio.
As far as advice for women wanting to get involved in the sport?   She offers:
Always be humble. Respect other women in the sport. Don't come into the scene with an attitude against others, especially when you don't know them nor have the years of experience behind you. Lift one another up. Never give up, no matter how many times you cross the stripe 2nd. It's an exciting experience for me to watch my sister race in the same class as my brother and it brings me to tears each and every time my sister does well because I know how much hard work she's put in to go just one more round. Enjoy and embrace every moment!"
Best of luck to Melissa!  We can't wait to see you add driver to your accomplished resume!