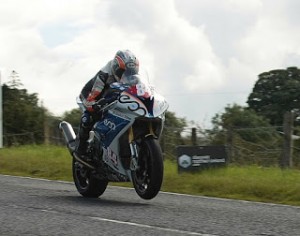 Northamptonshire motorcycle racer Maria Costello made a return to a BMW Motorrad UK S 1000 RR for the first time since the Northwest 200, after a several month hiatus attributed to funding left her sidelined.   Despite the lack of testing, she was able to register a fantastic 116.790 mph performance and a new female lap record at the 7.4 mile Dundrod circuit, making her the fastest woman ever on the course.
I was fortunate to have an experienced team around me for this event and with the additional support from BMW Motorrad's technicians, I had a great set up on the BMW. Which is always a good thing when you're about to ride a missile around the world's fastest road race! It was me that would need to find some speed, come race day."
With only one dry session on the Twin, Costello and team used the previous year's data to dial the bike in for an 18th place qualifying position in the Supertwin race.
Race start began in bright sunshine and Costello took to the grid on her ESM/Wollaston BMW backed BMW Motorrad UK S 1000 RR for the first event of the Ulster Grand Prix, the Superstock race. The BMW performed faultlessly and Costello enjoyed a lengthy battle with Andrew Sellars and Hubert Kalthuber. It was on her third lap that she set a new female lap record and she took the chequered flag in 38th place in her debut litre bike race around Dundrod.The Supertwin race was called to the grid as rain started to fall and the race got underway on a wet track. Costello finished the course in an admirable 21st place.
I'd not long arrived when I had upsetting news from home. I couldn't change anything by going home but it put me in two minds about staying to race. Thanks to my team and friends in the paddock, and the blessing I received from my family, I decided I would compete. So the new lap record means more to me due to the circumstances & I feel so fortunate, firstly to have this opportunity on the BMW, but also to have such amazing support around me.  I've a lot of people to thank for this opportunity including BMW Motorrad UK, BMW Motorrad, Wollaston Bikes, Metzeler tyres, all my sponsors and supporters."
Costello, who is a champion of women in racing and regularly hosts all-women track sessions, added that she was happy to see the turnout at the race for female riders.
Congratulations to all the women who competed at the Ulster, it great that we're making a small dent in to the male dominated world of real road racing. Well done to Noel and his team for running a great event. I want to wish all those injured a speedy recovery and I was deeply saddened by the news that a young man lost his life in the supersport race. Another dark cloud hangs over the sport and I send my sincere condolences to his family and friends."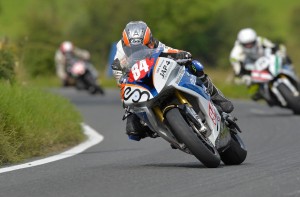 Costello's next event is a little more laid back when she will be leading a ride out from Wollaston BMW in Northampton this Sunday, to support the world record attempt at the Ace Cafe in London, to get the most women bikers in one place. Women who want to join the ride can meet at the dealership from 9.30am. Free bacon butties are being laid on and the ride will commence at 10am.
Maria then heads to the Isle of Man to participate in the Classic TT. To find out more about the fastest woman Maria Costello and what she'll be doing next, please visit her website: http://www.costelloracing.com