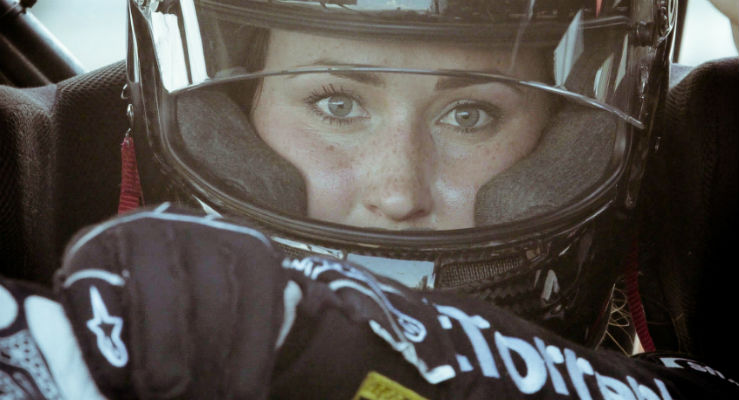 Twenty-three year-old Sara Price, a successful multi-championship Professional Motocross and UTV racer from Southern California will be the first female to compete in the SPEED Energy Stadium SUPER Trucks Presented by TRAXXAS Series.    Price's debut is thanks to the support of BitTorrent Inc., who helped with the buildup to this event.
Sara Price – First Female in Stadium SUPER Trucks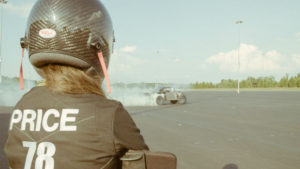 Making her debut during the upcoming Honda Indy Toronto event, July 15-17 in Toronto, Ontario, Canada, Price will become the first female to compete in the series.  With speeds hitting upwards of 140 mph, and launching over 20 feet in the air, the identically prepared 650 hp Stadium SUPER Trucks offer Price a unique opportunity to prove herself in a discipline dominated by men.    Determined not only to be the first woman to start, Price is set on contending for a spot on the podium.
"I'm extremely excited to be transitioning into the SST Series. When Robby Gordon called me 2 years ago saying I need to get into one of his Stadium SUPER Trucks, I just put my head down and started getting to work. SST is where I want to be, and I'm very pumped to be competing in the same exact truck as the other competitors, it's truly a dream come true."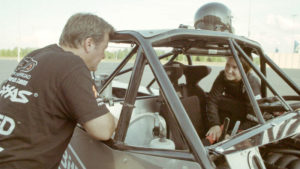 Robby Gordon; Series President; Former NASCAR and IndyCar Winner and Off-Road Champion commented on Sara's involvement in the Stadium SUPER Trucks program:
 "Sure there has been other women whom have competed in motorsports history, but it is not too often you are able find the complete package. Sara has the talent, beauty, and sense of drive, to continue writing Stadium SUPER Trucks history well into the future, including becoming the first female SST winner and push to become a Champion."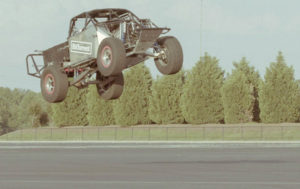 Gordon created the SST series in response to the public's overwhelming interest in trucks and off-road racing, influenced by the former Mickey Thompson Stadium Off-Road Racing Series. His plan to re-launch the SST has led to exciting racing on both asphalt and dirt, while producing one of the most extreme forms of action sports today.
Setting it apart from other series, all SST trucks are identically prepared and delivered to drivers in race-ready condition. Race winners are decided by driver skill rather than individual team engineering and budgets. Drivers and their personal mechanics are assigned specific SST mechanics who together tune and make minor adjustments to the 650-horsepower trucks.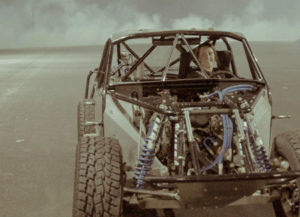 Powered by BitTorrent
Sara Price – First Female in Stadium SUPER Trucks is a vision made possible by the support of BitTorrent Inc., a media company dedicated to empowering radical voices in sports, music, film, and more. Their global consumer media platform gives athletes such as Sara Price and brands outside the mainstream exposure to over 200 million fans.
"BitTorrent is incredibly excited to be supporting Sara," says Jeremy Johnson, co-CEO of BitTorrent. "We're dedicated to supporting the individuals in action sports who break the traditional mold and bringing their stories to the world."
Price has continuously been breaking down barriers in motorsports. She won over 17 national championships in motocross and medaled in the X-Games before making the switch to four wheels, winning several Off-Road and Time Attack racing championships.
Video Teaser | Sara Price's First day testing a Stadium SUPER Truck
Learn more about Sara Price at www.sarapricemx.com and follow her on Instagram, Facebook@sarapricemx and twitter @sarapricemxcom