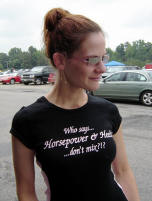 Its hard to remember back to the beginning, back to your very first drag racing experience. Some of us were lucky enough to call the drag strip home all our lives, having family whose involvement in racing was passed along to the next generation of racers. Others came across it on their own terms, through car clubs, magazines, or simply by accident. No matter what brought you to your first racetrack, one common result ensues for all: Its only a matter of time before you're hooked.
This past weekend, I was refreshingly reminded of what the first time at the drag races feels like. My best friend since elementary school, Heather Sinks, made the trip down to Richmond FFW from her home in D.C. to spend the weekend at the races with me. Having never been to a drag race before, Heather had no clue what to expect. While most of us experience our first race from the safety of the stands, her first experience placed her in the thick of things, along side the crew of a Pro 5.0 entry. After all my years of involvement in racing with Fun Ford Weekend, I tend to take for granted how foreign it all seemed in the beginning. Which is why Heather's first experience brought me back to the early days and the rosy colored glasses. Here are some of the best anecdotes from Heather's weekend:
"Why do the fast cars need training wheels?"
That's right, training wheels. Or what us seasoned veterans refer to as Wheelie Bars. Although, quite honestly a set of training wheels for some drivers would not necessarily be a bad thing either.
"The back tires are bald. Why don't they have any tread?"
Valid point. In daily driving, bald tires are a bad, bad thing. Which makes it all the more complicated to explain why slicks help get the car to hook and NOT spin, and why drag radials (with treads) are the hardest tire to master and not spin to smoke. On the road, bald tires will make travels a slippery experience. But not at the drag strip…
"Why do they sit there and make the cars smoke?"
Ahh, the smoke. And the people who sit there and willfully inhale it. Drag Racing is one of the few locations where second hand smoke is the most desired experience second only to the first-hand inhale of your own tire smoke. Yes, burnout smoke, which incidentally most of us probably have amassed enough rubber particles in our lungs to have our own Mickey Thompson slick bouncing around, is a drag racing anomaly that the 'normal' folks don't quite understand.
"Why are the front tires so much smaller than the rear?"
Well, besides the fact that they are kinda funny looking that way, I can see why that would be a source of wonder. They tell you not to drive a spare donut tire faster than 55 mph or risk serious injury, and drag racers willfully strap two on the front of a 200 mph car? What's up with that?
"What are those bags on the back of the car?"
Those neatly (or NOT) packed bags are parachutes.
"Parachutes? Like the ones you don't want to use on a plane?"
Exactly. Only these help stop the car.
"Don't they have brakes?"
Well, yes. But these help stop faster than brakes alone when cars are going faster than 150 mph.
"Why do the faster cars get pulled to the starting line, why can't they drive up?"
That's a good question, I mean one would think that such an expensive car should at least be able to make a trip around the block. I guess that brings the term fuel economical to the next level.
"These things cost HOW MUCH?!?!"
No explanation needed. And no, you'll never win enough to pay for them.
"Do these run on gas like regular cars do?"
Well yes, sort of. Not exactly the regular unleaded you find at your local Exxon, and theres a whole lot more than a "tiger" in your tank. You complain that gas is too expensive at the pump these days?… try $15 a GALLON and you have to pump it out of a drum, carry it to the car and pour it in manually! That takes Self-Serve to a new level.
"What is that hissing sound and that air they spray out on the windshield?"
What, a nitrous purge? That means they need a big weight break and are about to burn up a piston trying to keep up with a turbo car. [kidding] No, seriously, its something they spray into the motor to make it go faster.
"Isn't that cheating?"
[Wise beyond her years, isn't she?] No, not always, but most of the ones that are, you probably aren't going to catch. -AND- just to be sure and careful (because nowadays you can never be too sure), contrary to what you may have seen on TV or in Hollywood, its called Nitrous NOT NAAAAWWSS.
"Why do they have to wear gloves and that funky outfit?"
Unfortunately, you'd think that today's fashion forward world would have an answer to fashionable safety wear. Really, the unglamourous truth is they don't want to be burned, so instead they slow cook in a 5 layer driving suit and an unair-conditioned crock pot. Hello, VERSACE?!? Please make us over! And why can't they use that Dri-fit technology for a meaningful purpose!
"What are all the fans and the leaf blower for?"
Well, to help cool the 'crock pot' back down.
"Are you going back up there right away?"
No, we have about 2-3 hours between rounds.
"So all this for a car that runs for 6 seconds and then gets shut off and towed back?"
[long pause] Well, yea. That's pretty much it.
"Okaaaay, then."
By Saturday night, Heather's outlook had already changed towards drag racing. She started off only knowing that she drove a mustang, and nothing else. But like so many others, the smoke was addicting, and she was already hooked. A few Saturday night Pit Party beverages later, she was telling everyone she wanted to jump in there and "smoke" her own tires….
…But only if she could do it in heels.