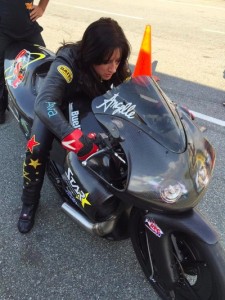 NHRA Pro Stock Motorcycle veteran and the winningest female in all of motorsports, Angelle Sampey is fresh off a successful test session and ready for the 47th Annual Amalie Motor Oils Gatornationals.
The Gatornationals marks the season opener, and first of 16 events for the Pro Stock Motorcycle class.   Angelle Sampey is no stranger to the Gainesville, Florida racetrack, having made her way to the finals four times in her career, taking the event win in 1999, 2003, and 2006.  The 3x time NHRA Pro Stock Motorcycle World Champion returned from retirement briefly in 2014, before returning full-time in 2015 after her recovery from a pit-related accident in 2014 ended her return prematurely.
I'm very very excited," said Sampey. "I can't wait to get back on. I'm nervous but not a worried nervous. It's more of an excited and anxious nervous."
For 2016, Angelle and teammate Cory Reed will debut new Precision Service Equipment/Star Racing Buells for competition.   After not feeling 100% comfortable with her bike last season, the new bike was custom fitted to her, and the Star Racing team has worked hard during the off-season to prepare for a championship run in 2016.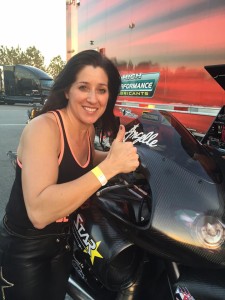 The Americus, Georgia based Star Racing team took the new bikes to South Georgia Motorsports Park for some test passes.
I've been training hard and I've got a brand new motorcycle. I haven't had a brand new motorcycle in a long time and they build this bike to fit me and nobody else."
After a brief introduction by Star Racing owner, George Bryce, to her brand new motorcycle, Angelle was pleased and wasted no time in getting down to business putting the new bike through the paces.   The veteran champ showed confidence on the motorcycle pulling into the waterbox, through the first burnout and in staging.   The very first pass down the racetrack, Angelle posted a 6.86 second, followed by a career-best 6.826 @ 197.57 mph in just the second ever pass on the brand new motorcycle.   The Star Racing team and Angelle Sampey are ready for the Gatornationals!
Angelle Sampey |  Career-Best ET in Gatornational Testing  [VIDEO]
Second run in the books and its low ET again!! 6.826 @ 197.57 mph!!!! And We still have room for improvement! #Angelle#StarRacing

Posted by Angelle Sampey on Monday, March 14, 2016