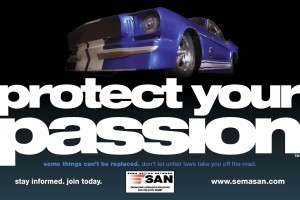 There has been a confusing whirl of information circulating since February surrounding the EPA ban threatening motorsports.   The Environmental Protection Agency (EPA) and their recent regulations endanger the racing industry and automotive aftermarket.     The Specialty Equipment Market Association (SEMA) is fighting to safeguard automotive aftermarket manufacturers by fighting the EPA and the regulations that threaten the future of motorsports.
"This proposed regulation represents overreaching by the agency, runs contrary to the law and defies decades of racing activity where EPA has acknowledged and allowed conversion of vehicles," said SEMA President and CEO Chris Kersting when the regulation was announced in February. "Congress did not intend the original Clean Air Act to extend to vehicles modified for racing and has re-enforced that intent on more than one occasion."
The short of the story is that they seek to crackdown on automotive aftermarket manufacturers who produce racing parts that do not meet emission standards – even if they are labeled for off-road, recreational use.    The language chosen would make modifications of any kind to commercially-made vehicles illegal – a direct blow to the grassroots motorsports community.    The EPA's stance is that under the Clean Air Protection Act, it has always been illegal to modify any motor vehicle – and that they are now exerting their authority to include race cars as they fall under the car-emission laws and are not part of non-road vehicles protected in the language (lawnmowers, agricultural tractors, industrial machinery, etc.).
SEMA activated its network to organize the racing community against the EPA, and within 24 hours had over 100,000 signatures collected petitioning the White House to block the EPA's proposal that would make it illegal to convert street cars into racecars.
RPM Act – Fighting the EPA Ban threatening Motorsports
In response, Congress Introduced a Bill to safeguard the motorsports community.   Spearheaded by U.S. Reps. Patrick McHenry (R-NC), Henry Cuellar  (D-TX), Richard Hudson (R-NC), Bill Posey (R-FL) and Lee Zeldin (R-NY) , the bipartisan "Recognizing the Protection of Motorsports Act of 2016" (RPM Act), was introduced to clarify that it has always been legal to modify a street vehicle into a racecar used exclusively at the track. The practice was unquestioned until last year when the EPA proposed a new regulation which would make this activity illegal.
The SEMA Action Network (SAN) is enlisting the support of the automotive aftermarket and motorsports communities to push Congress to pass the RPM Act that will stop the EPA ban threatening motorsports.
As part of the motorsports community, we must rally together to ensure that our sport and livelihood is protected.    
Visit the SEMA ACTION NETWORK campaign
to write your local member of Congress asking for their support of the RPM Act!   SAN has created an easy-to-use form that will generate the letters on your behalf with your information.    
Just fill out the form, and help fight the EPA ban threatening motorsports!