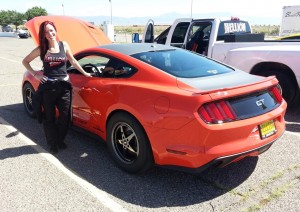 Longtime NMRA standout crewmember, Melissa Urist, recently made the jump from wrenching on her husband, John Urist's, Street Outlaw record-holder, to wheelin' her very own beautiful, competition orange turbocharged 2015 Mustang GT street car during the Nitto Tire NMRA All-Ford World Finals at Beech Bend Raceway in Bowling Green, Ky.
"I've been around this series for a very, very long time but always as a supporter, crew member, pep talker and helper. My husband, John and his business partner, Dwayne James, gave an opportunity to me I just couldn't pass up. I jumped on it the moment it was presented and haven't looked back since," Urist said.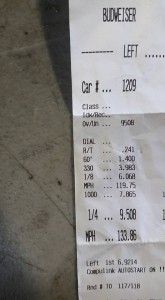 Melissa Urist goes straight for the record book
The event marks the first-ever drag race for the rookie driver, who after some licensing test-session passes, clocked an impressive 9.508 second E.T. at 133.86 mph in street-trim.   Not only was this an impressive first race for the rookie driver, but it was good enough to unofficially lay claim to the title of fastest turbocharged 2015 Mustang street car on the planet!
The pass, which Urist said had her lifting early around the 1,000 ft. mark, shows that there is still plenty of potential in the ride, and she is eager to push the car further this weekend.
Rain Soaked Bowling Green
Like so many other racing events this weekend, the Nitto Tire NMRA All-Ford World Finals are contending with cold rainy weather that have not allowed for qualifying thus far in most classes.    Melissa is set to compete in the Turbo Coyote Shootout class.
"I want to go out there and lay down some sick numbers. Who wouldn't want to win their first race ever?" she said. "Honestly though, there's a lot of seasoned racers in the class I intend on running. My hope is to go out there, make fast, consistent runs and show what my street car is capable of doing on the track," she concluded. (from StangTV.com)
Racing is scheduled to resume today at 8:30AM, with heads-up qualifying to follow the index classes.