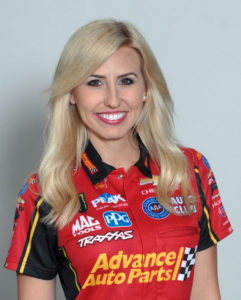 NHRA Funny Car driver Courtney Force teams with Advance Auto for 2017 season, unveils new black and red Advance Auto livery.
John Force Racing and Advance Auto Parts, a leading automotive aftermarket parts provider in North America, serving both professional installer and do-it-yourself customers, announced major primary sponsorship of Courtney Force's Chevrolet Camaro SS Funny Car for the 2017 season. This multi-year sponsorship will begin with the 2017 NHRA Mello Yello Drag Racing Series season opener, the Circle K NHRA Winternationals in Pomona, California, and cover the winningest female Funny Car driver in NHRA history throughout the season.
"I am thrilled to be driving the Advance Auto Parts Chevrolet Camaro SS Funny Car starting in 2017. Last season, we made some big strides toward our first championship and I am very confident in my team led by my crew chiefs, Dan Hood and Ronnie Thompson, and that next season can be even better. I love the look of this red, yellow and black Camaro and I can't wait to get it into the winner's circle," said Courtney Force.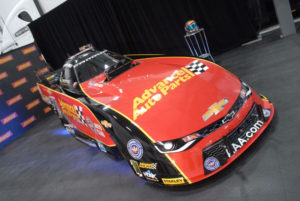 Last year, Advance Auto Parts made a series of limited appearances onboard John Force's PEAK Camaro Funny Car at select events, including a trip to the winner's circle at the NHRA Carolina Nationals to start the 2016 Countdown. The relationship has expanded to encompass Courtney Force's Funny Car team through this multi-year sponsorship.
"This is a real business-to-business deal for John Force Racing. We expanded our relationship with PEAK at the beginning of last season and we ran the Advance Auto Parts Funny Car a couple times," said John Force, JFR CEO and 16-time Funny Car champion. "The opportunity came to grow the deal and they were interested in Courtney so it was a perfect match. We are excited to work with Sponsorship Integrated Manager Matt Davis and his team at Advance to help them grow their business across all their stores. I have done shows with Advance Auto Parts in the past and am looking forward to working with them again."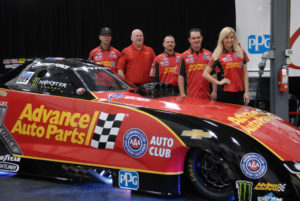 Advance Auto Parts has been actively involved in motorsports through the NHRA, NASCAR and other motorsports series important to its customers.
"We are proud to be partnering with Courtney Force and the John Force Racing team for the 2017 season and beyond," said Walter Scott, Chief Marketing Officer for Advance Auto Parts. "After working with John and the team last year through our partnership with PEAK, we got to know Courtney and felt she would be a great ambassador for our company. Our team members and customers love NHRA drag racing and we can't wait to see the Advance Auto Parts Funny Car on the track in 2017."