Determination Unmatched.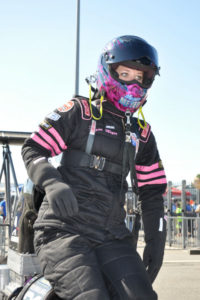 For most, a rookie season is a year filled with learning experiences and getting comfortable in a new class and racing environment. But not for NHRA Top Alcohol driver, Megan Meyer – who set her eyes on the goal of a championship in her first year. The young protege daughter of TAD racing dynasty Randy Meyer Racing, Megan began her first full season behind the wheel of the Racer's Evolved A/Fuel Dragster in March, catapulting herself to a spectacular rookie season filled with plenty of exciting achievements.
Megan Meyer Rookie Year-End Recap
Megan's season began with the debut of beautiful new Racer's Evolved livery at the 47th Annual NHRA Gatornationals in Gainesville, Florida. She quickly took to the top of qualifying, before being bumped by Mia Tedesco into the #2 position. Megan would soldier through the field, making it all the way to the final round at her first national event in the class. Though she wasn't able to score the win light, her runner up finish was a strong start to her rookie season. She also picked up the Best Appearing Car award for the event.
Her luck would continue into her second appearance, at the Lucas Oil Drag Racing Series (LODRS) Division 4 South Central Region "Nitro on the Bayou" season opening event. Her first time to race at No Problem Raceway in Belle Rose, LA; she got off to a slow start learning the new track surface and qualified in the No. 7 position. But she learned quickly, and was able to navigate her Racer's Evolved A/Fuel Dragster to another final round, finishing as runner up yet again – her second straight final round appearance and second runner-up of the year.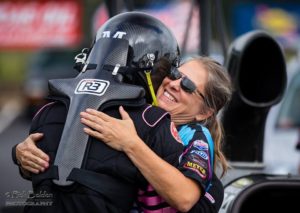 The rookie hot streak Megan was riding continued into the 7th Annual NHRA 4-Wide Nationals in Charlotte, NC. Qualifying again in the No. 2 position, she would march onto her third consecutive final, this time earning her first Wally after an emotional win. She also picked up another special Wally award that morning – the second for Best Appearing Crew honors that weekend.
A semi-final finish at the 29th Annual NHRA Spring Nationals in Houston suburb of Baytown, TX was her first time outside the final round for the season, but did nothing to slow Megan's determination. She held strong at the No. 2 position in the national points chase entering her hometown event at Heartland Park Topeka.
The 28th Annual NHRA Kansas Nationals marked the first time father-daughter would compete alongside one another, and although the team had their hands full fielding two cars, they kept their stride all weekend. Megan grabbed her first career No. 1 qualifying position, and advance to yet another final round, where she earned her third runner up and fourth final round appearance of the season.
Up next, the rookie would take on NHRA's LODRS South Central Division at Osage Casino Tulsa Raceway Park. Megan qualified No 5. At the event, taking the win first round before falling in round 2. The Racer's Evolved A/Fuel dragster earned the Best Engineered Car award for the event.
Mechanical issues at the 10th annual Summit Racing Equipment NHRA Nationals in Norwalk, OH would present the first major challenge of her highly successful rookie season. The throttle would stick on her A/Fuel Dragster, causing extensive engine damage. The team would scramble to get her back-up engine put in the car, and ended up with a No. 4 qualifying attempt. She would get by in round 1, but would suffer her first holeshot upset in Round 2 of eliminations.
But Megan and her Randy Meyer Racing team rebounded quickly, with a fifth final appearance and runner up finish at the Route 66 Nationals event. She would hold strong to her No. 2 position in the points standing.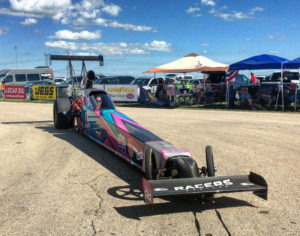 Shifting gears from rookie to mentor, Megan then was able to welcome her sister, Rachel's Top Alcohol Dragster debut for their hometown regional LODRS event at Heartland Park Topeka – their first time competing together in Top Alcohol Dragster. Both ladies qualified well, with Rachel taking the No. 1 qualified position at her debut event, and Megan taking the No 3 position. But both ladies made early exits in the first round after encountering tire shake. This marked Megan's first time losing in the opening round of eliminations all season.
Megan and Rachel again teamed up for the NHRA LODRS North Central Division event in St. Louis. This time, they swapped qualifying performances, with Megan taking the No. 1 position and Rachel coming in at No. 3. Both ladies took turns resetting the track record for the Top Alcohol Dragster class, and along with Mia Tedesco, the ladies held the top three qualified positions, as well as commanding eliminations. Megan and Mia would battle it out in an all-female final round, with Megan ending up with the runner-up finish. Megan recorded her second career No. 1 qualifier, her fifth final round appearance and fourth runner-up of the season.
The marathon stretch for Megan and the rest of the Randy Meyer Racing team continued onto Brainerd, MN for the 35th annual Lucas Oil NHRA Nationals. There, Meyer would again capture her third No. 1 qualifier of the season. She would run a new career best in round 1 and round 2 of eliminations with a 5.178 second, 278 mph performance. This bested Mia Tedesco's previous record of the quickest female in the sportsman contingent. She exited in the semi finals after massive tire shake, which would be the catalyst that set off a mechanical downturn that left the Randy Meyer Racing team struggling with performance issues for several races.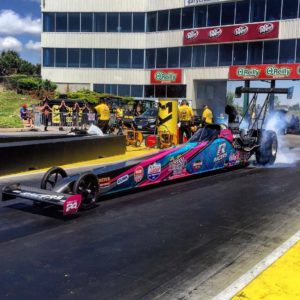 The excitement and marathon of activities surrounding the Big GO – NHRA's hallowed 62nd annual Chevrolet Performance U.S. Nationals event in Indianapolis, IN can be overwhelming and grueling on even the most seasoned racers. With a full schedule of media appearances and the week-long racing schedule of NHRA's most prestigious event, Megan had her eyes on adding a coveted Indy win to her rookie season. She qualified right in the middle of the pack at the No. 7 position. But first round exit for Meyer put a damper on the weekend.
"We were all disappointed to go out in the first round of the U.S. Nationals. There was a tremendous amount of tough competition at the event, and unfortunately we couldn't get a lucky break to get the win."
Recouped from the grueling 5 week tour on the road, the 9th Annual NHRA Carolina Nationals gave Megan a chance to return to the site of her first victory, hoping for a repeat trip to the winner's circle. She qualified strong, at the No. 3 position, and would take the win in round one, but would fall in the second round.
But it was the final race of the season that left the young rookie heartbroken. The 31st Annual AAA Texas NHRA FallNationals was the last chance for Megan to push her Racer's Evolved A/F Dragster into the winner's circle, and a critical race in holding her position in points standings. But it wasn't meant to be, as Megan experienced the heartbreak of a DNF – failing to qualify for the event and being forced to the sidelines. This unfortunate incident ended up pushing her back to the #4 finish nationally and the #2 position regionally.
"Looking back at the successful year that we had, it was very heartbreaking for all of us to end our season by not qualifying for our last race of the year. Dallas was one of the races that I really wanted to win, and I knew that we had the race car that could compete in the quickest field of Top Alcohol Dragster, but we just could not repeat the same numbers as earlier this year. We believe that we have lost power due to a number of things that we cannot control throughout the year. These race cars go through tremendous tire smoke and shake that can really wear out parts fast, and forcing them to constantly run in the 5.20's can do a lot of damage. I think our tires, clutch, motors, and the car have all experienced a lot this year, and it's time that we refresh everything."
"I am very hungry for another win, and I was a little disappointed that I made it to 6 final rounds this year but only came out on top once. I have an amazing and talented group of guys that work with us all year long, and with new sponsorship coming next year, as well as my sister coming on board as a full-time driver, we will be stronger than ever."
Meyer is currently nominated for the honors of Division 5 Pro-Sportsman Driver of the Year, Rookie of the Year, and the Randy Meyer Racing team collectively up for Tuner of the Year. Each is a fan vote based award. Fans can place their votes at: https://form.jotform.com/52785826085972. Voting ends Dec 2nd.
2017 and Beyond
Though she has aspirations for a professional career in Top Fuel, Megan Meyer says for now, she has unfinished business in the Top Alcohol Dragster class, and intends to compete for the championship again in 2017. Proudly wearing the No. 4 designation on her dragster for the 2016, she has her eyes set on the championship in 2017 and is ready for the challenge of her sophomore season. Though her primary sponsor, Racer's Evolved will not return in 2017, she is confident that a new partner will join the successful driver on her planned 17 race 2017 schedule. For now, the offseason gives the Randy Meyer Racing crew the opportunity to rebuild and renew equipment that saw plenty of action – and wear – over the course of their busy season. It also allows a very savvy and business minded Megan the chance to secure a new title sponsor to join along in the ride.
Rachel Meyer will join Megan on the tour full-time after her college graduation with a degree in Mechanical Engineer in May. The team will unveil a brand new dragster from Copeland Race Cars for Rachel's 2017 debut at the NHRA Topeka Nationals.
Randy Meyer Racing will continue their "Rent-A-Ride" Program, welcoming rookie Justin Ashley (son of former Top Fuel and Funny Car driver Mike Ashley) to the team and allowing Megan to again step in as mentor for another young aspiring driver.
One thing is certain, the Meyer sisters and the rest of the Randy Meyer Racing team will be a formidable presence yet again in the Top Alcohol Dragster class. We wish them all the best of luck in 2017!