The NHRA Top Fuel Dragster team Dote Racing, just announced that they will not be returning to NHRA competition in 2016.   The Ohio-based operation, active in the class since 2009, takes a hiatus from the sport on the heels of a decision by primary sponsor, Gumout, not to renew their sponsorship of the Dote Racing team.
This leaves current driver Leah Pritchett in search of a new ride for 2016.    Pritchett joined Dote Racing in 2013, competing the majority of 2014 and 2015 in the NHRA Mello Yello Series with Gumout as primary sponsor.
Pritchett and the Dote Racing team recorded their career best performances this season, hitting a competitive stride with a runner-up finish at the NHRA Southern Nationals in Atlanta, and qualifying second at the NHRA Keystone Nationals in Pennsylvania. Pritchett clocked her career-best elapsed time in the Dote Racing dragster (3.73 seconds) during the NHRA Summernationals at Englishtown, N.J.
Dote Racing has been a family racing legacy for three-generations.  Beginning in the mid-80s with Lynn & Sue Dote purchasing a 1951 "Henry J" drag car, the family tradition was continued by their son, Mike Dote, and his wife, Connie.
Mike, Connie and their daughters, Camie and Joanna, began competing weekly. After fulfilling their bracket racing goals and building great family memories, the team decided to take their passion to the ultimate level, Top Fuel.
"Our decision to take a hiatus from the sport comes on the heels of Gumout's decision to pursue their major marketing efforts in a different direction, outside of the NHRA," said Mike Dote. "It is very difficult to walk away at this point, but ultimately we do not have the funds in place for a competitive 2016 season. We have made incredible progress on the track, and have Leah, one of the most talented and marketable drivers in the series at our wheel. It has been a tremendous experience for our whole family and the racing team to work with Gumout and the other ITW brands. We are proud to have raced at such a competitive level against some of the biggest and most accomplished names in drag racing. We want to thank everyone with our team, our sponsors, NHRA, Mello Yello and the outstanding NHRA fans."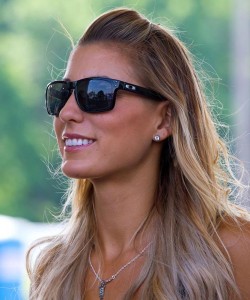 Pritchett, a 27-year-old California native, will begin exploring new opportunities for the 2016 Mello Yello Season after impressive performances the past three years in Top Fuel.
"Working with the Dote Racing team has been a great experience for me, and I am beyond thankful to the Dote family for believing in me," said Leah. "Mike, Connie, Doug (Kuch, crew chief), Rob (Flynn, tuner) and the entire team have been outstanding with me as a newcomer to Top Fuel three years ago. Beyond driving, I believe my responsibilities within Dote Racing have equipped me with an expanded skill set that will enable me to continue success on and off the track. This experience has been invaluable, and I wish them the best in the future. I am pursuing more drag racing opportunities including my continued work with Gumout. I'm very excited to see what the future holds for me in NHRA Mello Yello drag racing competition."