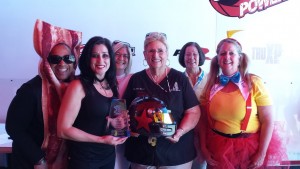 The ladies of the Drag Racing Association of Women (D.R.A.W.) presented the People Of The Year Award to NHRA Pro Stock Motorcycle racer Angelle Sampey on Saturday October 31, 2015 at the Las Vegas Strip.
"I don't feel like I deserve this award but I am so honored and blessed to receive it!! I was so shocked when the awesome ladies of D.R.A.W. Presented it to me here at the Las Vegas Strip."  – Angelle Sampey
D.R.A.W. – Fast Help for Fast Friends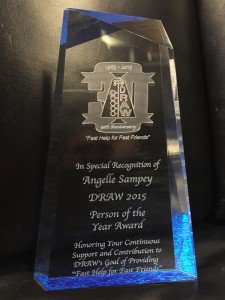 The Drag Racing Association of Women (DRAW) is a non-profit organization that provides financial and emotional support to qualified individuals involved in drag racing accidents at a track. From 1985 through 2014, DRAW has helped 799 racing families and provided a total of $4,055,442 in financial assistance.
A year ago, after Angelle suffered a season-ending injury to her achilles tendon,  D.R.A.W. was able to give her assistance financially to help her and her family through the experience.
Sampey donated the helmet worn in Pro Stock Motorcycle competition all season long in 2015 to the organization for a future fundraising auction.   As she says today "they truly are, Fast Help For The Fast Friends."
Source: Angelle Sampey, Facebook