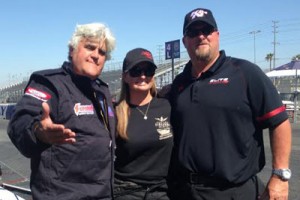 Look for reigning Mello Yello Pro Stock world champion Erica Enders and Elite Motorsports team owner Richard Freeman on the premier episode of Jay Leno's Garage, Wednesday night at 10 p.m. Eastern on CNBC.    Enders will be showing the talk-show host/comedian and car enthusiast the ropes on how to drive a drag racing car.
"It will be a great way to introduce the NHRA Mello Yello Drag Racing Series to a new audience," Enders said. "That was a great experience and a neat opportunity. I grew up watching Jay Leno and always enjoyed him throughout my life, so it was cool to be able to work with him. He shares the same passion for automobiles that we do, and that was pretty evident."
Leno has a well-known private collection of automobiles, and Enders and Freeman will get the tour of his prized collection when NHRA returns to California for the season-finale in November.
Jay Leno's Garage began as a YouTube series about cars and motorcycles with a one-hour special airing on CNBC last year,  but its popularity has spurned a primetime weekly show that begins this Wednesday.
Enders and Freeman joined Leno after her Bristol win to film the show at Auto Club Dragway in Fontana, Calif.    They used the Super Comp car of Division 7 racer Eddie Fischle, along with the support of Frank Hawley.
Enders and Leno cruised around in a new Chevrolet Camaro SS, and the two chatted about their respective careers to begin the show.
"It was fun to be able to drive him around in the Camaro," Enders said. "We talked a little bit about his life and a little bit about my career. Then we spent the rest of the day teaching him to drive, so it was a neat deal."
Enders is the perfect choice for driving coach, as she recently set an NHRA record by winning three consecutive final rounds on holeshots.
"It was a neat chance to be able to teach him how to drive a Super Comp car with Frank Hawley," Enders said. "I ended up getting to make a pass in my buddy Eddie Fischle's car, and he supplied us the cars for us to teach Jay to drive."
Leno wanted to make more passes in the car at the end of the day, clearly enjoying his lessons behind the wheel.
"That goes to show how much he enjoyed it," Enders said.
How do you think Jay will fair behind the wheel of a Super Comp car?  Comment below!