After a record breaking season, two-time NHRA Pro Stock World Champion, Erica Enders was recently named to espnW's IMPACT 25 list featuring athletes and influencers making big moves for women in sports.
Enders joined many other famous women in sports athletes such as World Cup champion Carli Lloyd, tennis star Serena Williams and UFC fighter Ronda Rousey.  The list was selected by a panel of sports experts and former athletes, split into two categories: Athletes and Influencers.   Honorees were captured in a special commemorative "Super" illustration by Marvel Comics.   Erica's capture depicted her as Racer XX – a tilt to her double X chromosomes.
Racer XX – Marvel's Erica Enders Superhero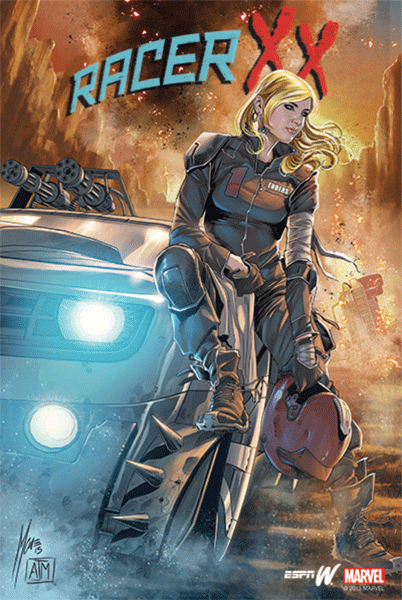 "It's a tremendous honor to be on this list of the best athletes in the world," Enders said.  "Thank you to ESPN and espnW for recognizing the contributions of women in sports, and thank you to the pioneers like Shirley Muldowney and Angelle Sampey for helping to pave the way for other women like me in drag racing."
Enders has a storied career in NHRA Drag Racing, with 2015 being her most impressive season to date.   She took home nine event wins in 2015,  had 11 final-round appearances, six No. 1 qualifying performances, and made history with three consecutive wins by holeshots, a first for the sport.   Her 2015 dominant World Championship was her 2nd career Pro Stock title.  Her nine wins also eclipsed Angelle Sampey for the most wins by a female in a single season.
Erica Enders has 21 career victories, making her the 39th driver on the NHRA All-Time win list.   She trails Angelle Sampey for 2nd most winningest female driver by 20 wins