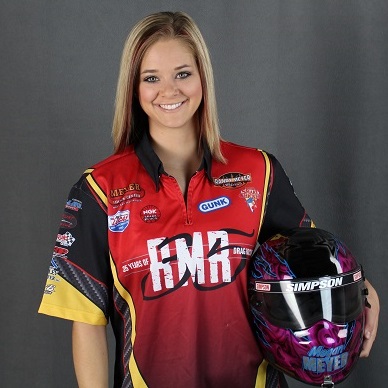 NHRA rising upstart Megan Meyer is following in her father's big footsteps.   Randy Meyers, driver and tuner of some of the quickest and most successful A/Fuel dragsters in the NHRA's Top Alcohol Dragster class history, has been grooming his 22 year-old daughter to follow in the family TAD legacy.   After two years of training and a successful regional event debut earlier this year, the NHRA Central Region Rookie of the Year nominee will join her father on the NHRA circuit in 2016 as teammate and driver for a full national campaign.
Meyer drove to her first final-round finish in her Top Alcohol Dragster debut at the St. Louis regional event in August.    Pleased with the promising performance, she is now poised for the 18-race schedule in 2016, with 10 NHRA Lucas Oil Drag Racing Series (LODRS) national events and eight LODRS regional races.
Entering the Lucas Oil national points series is such a dream come true for me. I've been looking forward to this my entire life and now that it's almost here, it seems surreal. After watching my dad take home a national points championship back in 2003 with Alan Bradshaw driving, and getting a first-hand look at what it takes to become a national points leader, I have complete faith our team will be a front-runner in 2016. My dad has instilled the skills of dedication, determination, sacrifice, and hard work in my upbringing, and I believe having him as crew chief of our amazing crew, consisting of my mother and little sister, is going to be the best combination in 2016," Meyer said assuredly.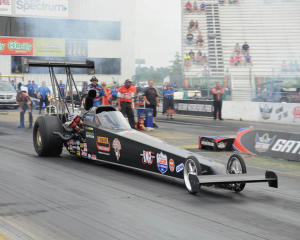 Megan Meyer graduates from Kansas' Pittsburg State University this month, and will hit the road in 2016 across the country.  The Herbalife 24 team will compete at NHRA national events in Gainesville, Charlotte, Houston, Norwalk, Chicago, Brainerd, Indianapolis, Reading, and Dallas.   In addition, Megan will run the full NHRA Central Region schedule, with races in Belle Rose, Tulsa, Topeka, Earlville, and Noble – and the North Central Region events in Chicago, St. Louis and Bowling Green.
I am determined to end up number one or two in the Central Region points series, and would like to win my very first NHRA national event. Also, I cannot wait for the chance to finally race my dad – hopefully in a final round! I still plan on bracket racing my Super Comp dragster next year at a few local E.T. Races with my sister to stay sharp between NHRA races. Finally, I will be launching my own freelance design business offering my services to other race teams," added Meyer, a graphic design student.
Though Meyer and her father are still finalizing 2016 sponsorship partners, a new apparel company called Racers Evolved has come on board with Megan that will focus on the needs of racers in all types of motorsports.
I am excited to partner with Racers Evolved because it's created by racers, for racers. As a female racer, I think there is a big demand for certain ladies textiles that aren't available for drag racing, because it's a male dominant sport. With Racers Evolved, we will have all sorts of clothing options that are handpicked by me and available to anyone in 2016 to provide the female racers with proper form-fitted garments," said Meyer.