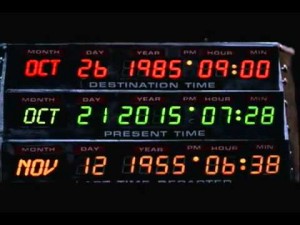 GREAT SCOTT!     Today is a very special day in time.
October 21, 2015
If you were a kid of the eighties like me, then Marty McFly and his time-traveling DeLorean in Back to the Future are a childhood staple.    Not only is the DeLorean a piece of finely crafted and under-appreciated machinery well ahead of its short-lived time, but it's also an iconic highlight of our youth.   Of course, it also means that the date October 21, 2015 should have recognizable meaning for you.
Geek out with me here, folks.
Today is the day….. we go BACK TO THE FUTURE.
In Back to the Future II, Marty McFly set the flux capacitor-equipped DeLorean for a trip 30 years into the future.   That date…. is TODAY.    So what did the 1989 movie accurately predict for 2015?   Well, they actually got a lot right.   Scarily right.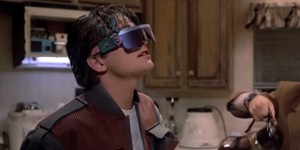 JVC Glasses?   Check.  We have Google Glass.  Video Phone Calls?   Check.  Hello, Facetime.   Immersive hands-free gaming?  Kinetcs Check.  Drones for news reports?  Check.   Electronic payments via flat wireless device?  Paypal Check.   Biometrics?  Everywhere, Check.
The Cubs winning the World Series?  Still up for debate, but wouldn't that be just eerily cool?
I'm actually a little miffed that Nike didn't deliver on the power-lacing sneakers.  And Mattel has failed us on the Hoverboard.    And don't get me started about the disappointment in the obvious lack of flying cars…. that was THE most anticipated feature of the future for childhood me.   Think of the customization options of cars that FLY!
I will however, consider it a tentative win that they are developing high heels you can change color of via a Smart Phone app on the go!  *Squeeee!!!*
Let's go Back to the Future.
So now that we know the outcome of reality in October 21, 2015, and the inevitable remake that is bound do happen to ruin revive an old classic like Back to the Future, let's set the dial on the DeLorean another 30 years.   Let's go BACK TO THE FUTURE… to October 21, 2045.
What do YOU think the future will look like??
If the pace that racing evolves lately is any indication (how out of the loop and antiquated can you get in just a few short years?!?), then my guess is that we still probably won't be modding our cars with retro-hover conversions though.