One of the most valuable things that I've acquired in my racing career has been KNOWLEDGE.     Drag Racing, and I would venture to say all other forms of racing as well, doesn't exactly come with a how-to guide for participating.  That's why finding a racing mentor is key.
Having not come from one of the genetically-predisposed families that grow up around racing, I came into motorsports with a proverbial blank slate.   I couldn't tell you how to do a burnout, or what made a car faster when I started.    I didn't know a torque wrench from a crowbar.  What was instrumental in my personal growth was an insatiable appetite for learning.
Researching Written Sources
Just starting out, its always helpful to be able to get as much background information as possible.   After seeing the races, and deciding it looked like something for me, I decided to do some research.   I checked with the track, found out the rules and regulations and schedules for amateur participation.   When I had questions about improving my car, I sought out industry magazines:   Muscle Mustangs and Fast Fords, 5.0 and Super Fords, etc.   When I was stumped about something I had read, I would hit the internet to ask questions on the Mustang bulletin boards (Stangnet, Corral, Hardcore 5.0, etc.)  Sometimes that isn't the most reliable of information sources, but it was a good sounding board to learn about common experiences.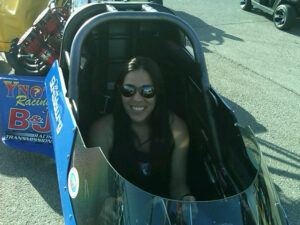 Don't Be Afraid to Meet Racers and Ask Questions
One of the most intimidating parts of anyone's career is that first-time race behind the wheel.   Heading to your local track and getting a case of the nerves is completely normal.  Everyone has a first time, after taking a few sessions in, don't be afraid to ask questions of other racers.   Most people are pretty understanding and helpful with first timers, and you stand to pick up tricks and suggestions, and maybe even a racing mentor.
Trade Time for Knowledge
While asking around at the track where I could find a reliable shop to install some new performance mods, I learned about a local shop that also was heavily involved in racing.   The owner would patiently answer my questions and offered advice regularly regarding improving my times at the track.   Because they also raced in considerably quicker classes,  they allowed me to tag along to races where I was able to watch and learn what it took for this higher level of racing.   I would lend a hand with small tasks… packing parachutes, cleaning parts, draining/filling intercoolers.  Volunteering for an experienced team is a great way to learn important information in racing.
Eventually, that relationship led to a full-time position at the shop, where I would spend plenty of time being schooled on the mechanics and learning critical information from a veteran with years of experience.   This type of information wasn't something I could find online or by attending any schools, it was the product of years of experience and a willing racing mentor who offered to teach.
As a result, when I ventured off on my own, I had a great mechanical knowledge base.   I was involved in the tuning and mechanics of the car, and wasn't forced to hire outside help very often.
Imitation of Best Practices
A racing mentor doesn't just have to be a driver or crew member.   I sought out racing mentors in all aspects of racing:  PR/Promotional, chassis and suspension understanding, and still others who helped in other forms.   Sometimes, they were unknowing mentors:  I'd learn merely by studying their teams and operations because of their successes.   Others were as simple as having some key questions at the right times.    Don't ever be afraid to ask for HELP.    Find someone who is at the top of their game, and see what they are doing to be successful.
Who along the way has inspired YOUR racing career and where did you come across your mentor?