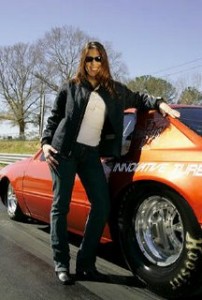 Wow.
My rookie season in FFW Pro 5.0 has been such a whirlwind year for me. Reflecting on where I started and where I finally ended up, shows such an evolution of emotions, trials, and even a few success stories along the way.
It wasn't so long ago that I sold my old (and dearly loved) drag radial car to chase my crazy dream of running in Pro 5.0/ Pro Modified. I said goodbye to my trademark black & pink little coupe at the end of 2004. Over a year I sat on the sidelines, and at the time I thought my time would never come. I ached to be out there racing with everyone, and though I still attended, crewed and found every way imaginable to stay at the races, my heart was still in the driver's seat.
Finally, in February of this year, "Bessie" as I've nicknamed her was done. I was a bit nervous at the jump in performance, especially after being out of the driver's seat for over a year, but when we finally got ole Bessie out to Phenix City for some 60′ test passes, I realized that some things never leave you. The learning curve was steep initially, but once I got accustomed to the night and day differences between a full interior, stock suspension street car and an all-out racecar, I finally found my groove. I cannot be more grateful for Dan Parker's presence in my life, because without him, I would not have been able to do this. He has truly helped me learn and grow as both a driver and a crewmember as well, making me more adept and competent on working on the car myself.
Though he wasn't able to be there, I was super proud and thrilled to have accepted the 2006 Crew Chief of the Year honor for Dan. He's always there to help anyone he can, and his work speaks volumes for him not only on my car, but Johnny Gullett's, Dan Millen's, Dennis Lugo and many others whom have benefited from his genuine care and concern for the people and the sport.
Finishing #2 in the points chase in my first year in Pro 5.0 was nothing less than breaktaking for me. As I said in my speech at the FFW banquet, I can remember clear as day standing on the starting line at the Spring Break shootout back in 2000, watching people like John Gullett and Doug Mangrum running down the 1/4 mile, and made a silent wish that one day I would be there with them. Well, 6 years later, after running brackets, winning a few true street events, getting runner-up in drag radial, and then finally I accomplished my dream of running Pro 5.0. But never could I have imagined that I would finish #2 in points for the year in such a competitive class. I am super excited to dream my dreams for next year and all the years to come.
Thanks to all who have stood behind me in this tell-tale year. Without you it would never have been possible. I look forward to tomorrow and can't wait to see what awaits us all in the future.