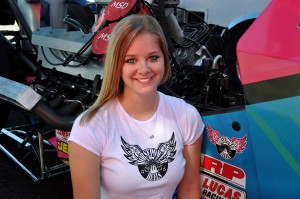 Fresh off a final appearance at the NHRA Gatornationals event, A-Fuel driver Megan Meyer continued her winning momentum with another runner-up finish at the Lucas Oil Drag Racing Series (LODRS) Division 4 South Central Region "Nitro on the Bayou" season opening event.   
The event marked the first Top Alcohol Dragster regional race for the South Central Division at No Problem Raceway in Belle Rose, Louisiana.   Megan Meyer and her Racer's Evolved sponsored team, led by father and renowned Top Alcohol tuner, Randy Meyer, had never raced at the facility previously.   
"Racing in Belle Rose, LA is a first for myself and my father, so we were both excited to be racing somewhere new," said Megan of her LODRS debut.
The weekend started a bit off-paced for Meyer and her Racer's Evolved team.   Qualifying attempts on both Friday and Saturday resulted in traction problems on the unfamiliar track surface.  But the rookie driver showed poise and control, pedaling her Racer's Evolved A/Fuel dragster down the track to a No. 7 final qualifying position with a 5.511 second at 270.48 mph effort.
"Two quick pedal jobs for me landed me with a 5.51 at 270, which isn't that bad of a pass, but definitely not what I was wanting," the ambitious young driver said.

LODRS Nitro on the Bayou Eliminations
Her first round opponent on Saturday evening would be fellow competitor and friend, No. 2 qualified David Brounkowski.  Without a complete pass in qualifying for data on the new track, Meyer and her team made some small changes between qualifying and the start of eliminations and were optimistic that it would put them back on-target.     
Those changes would pay off, as Megan quickly closed a small starting line gap to power onto the round win, with a 5.294/271.19 mph to Brounkowski's 5.613/251.91 mph.   She also captured low E.T. for Rd. 1 with this impressive improvement, and would earn lane choice in Rd. 2.
On Sunday, Meyer would take on the No. 6 qualified Monroe Guest in Round 2 of eliminations.   Although Guest would take a slight advantage on the start, Megan would take the semi-final victory,  improving yet again with a 5.280/272.45 mph effort.  Guest ran into traction problems early, sending Megan into her second consecutive final round against the No. 1 qualified Gord Gingles.
Meyer would not have lane choice entering her second consecutive final, and Gingles as the top qualifier, had been the car to beat all weekend.     The pair left with nearly identical reactions, and Meyer posted a 5.358/270.97 mph run.  But it would be Gingles holding onto the win with his 5.319/269.29mph.
LODRS Runner up for Meyer | TAD
This was Megan Meyer's third career TAD runner-up finish.   In March, she made her way through the field to a runner up finish at the NHRA Gatornationals event.  She had also earned another regional LODRS runner-up finish at her 2015 debut in St. Louis.
The LODRS Nitro on the Bayou event marked the first of six South Central divisional races, where drivers accumulate points towards regional and national championships.
Megan Meyer partners with Horsepower & Heels
This weekend also marked the start of a new partnership between Megan Meyers and Horsepower & Heels, an organization dedicated to celebrating, promoting and supporting women in motorsports.   
We are truly excited to have Megan joining with us at Horsepower & Heels. Her competitive and enthusiastic spirit represents everything that Horsepower & Heels is passionate about, and we look forward to showcasing her career and helping to support and promote her efforts in NHRA Drag Racing," says Erica Ortiz, Horsepower & Heels founder.
Horsepower & Heels publishes regular news, features and updates on women in a wide variety of motorsports – from drivers, crew personnel, motorsport industry professionals and other women involved in automotive and racing.   In addition to promoting the careers of female motorsport participants, Horsepower & Heels continues to expand offerings to help women in the sport by offering specialized training, public relations and marketing programs, and helps to build a network of trusted partners for and with women in motorsports.   
Readers can follow Megan Meyer and her rookie Top Alcohol Dragster season at www.horsepowerandheels.com.