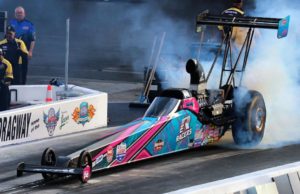 A three-race final round streak ended in a Houston semi final for Megan Meyer, the NHRA Top Alcohol Dragster Rookie sensation out of Kansas.     Meyer and her Randy Meyer Racing team battled the soggy, hot and humid conditions at Royal Purple Raceway in Baytown, Texas, taking the Racer's Evolved A/Fuel Dragster to a semi final finish before bowing out to event champion Lee Callaway.
Fresh off her first win at the NHRA 4-Wide Nationals, Meyer, prodigy daughter of NHRA TAD champion, Randy Meyer, qualified No. 3 in the rain-shortened qualifying program, with a detuned first round effort of 5.35 seconds at 268 mph.   Her Randy Meyer Racing team hopped it up for round two, and posted an impressive .907 second 60′ charge out of the gate, but it would prove a little more than the track could hold, and resulted in tire shake and a quick pedal job for a 5.40 at 274 mph effort.     Round three would be forfeited, and the Top Alcohol Dragster class would charge into the opening round of eliminations on Saturday at the 29th Annual NHRA Spring Nationals in the Houston-suburb of Baytown, TX.
Houston was another first for me, my dad has competed at this race many times but I have never visited or raced at Royal Purple Raceway before. I did have a lot of pressure on my shoulders to repeat not only my success after winning Charlotte, but to also claim a 4-peat win for the Randy Meyer Racing Team. Despite the pressure I was very confident in my team and we had great results on track. With only two qualifying sessions we claimed third and had some tough weather conditions – a lot different than any we've had so far this year. Along with a brand new motor in the car, we slowed the tune up way down for the first qualifying pass to make sure it goes from A to B without smoking the tires or shaking. After having a fair pass we hopped it up quite a bit to try to claim that number 1 position, and had an amazing 60-foot time of .907, my second best of the year, but with too much power it shook the tires and I had to pedal it to slow it down some, but still ran fast mph on the top end."
In Saturday afternoon's opening round of eliminations, Megan Meyer would face No. 14 qualifier, Rob McKinley.   At the tree, it was McKinley would would leave first, with a 0.020 reaction to Meyer's 0.059 second R.T.   But McKinley would quickly run into trouble, smoking the tires and fishtailing sideways as he aborts the run.  Meanwhile, Megan improves on her qualifying efforts, running a 5.323 second, 271.35 mph pass for the round win.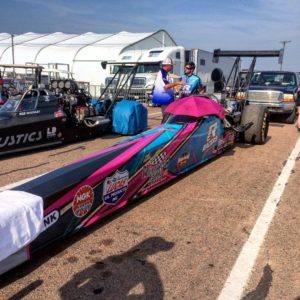 On Sunday, eliminations for the Top Alcohol Dragster class would continue, with Megan carrying lane choice against No. 6 qualified David Brounkowski.    The second round match up would be the first between the two racers, and Megan would quickly take the lead at the tree with a consistent 0.021 second R.T. en route to her event-best run of 5.280 seconds at 272.94 mph – just shy of the  No. 1 qualified time slip.   Brounkowski would also post his event-best E.T., but it would not be enough to upset the hot rookie in her quest.
Next up was the Houston Semi Final for Megan Meyer.   She would face No. 2 qualified Lee Callaway for the first time in her young TAD career.   Both were gunning for a trip to the finals:  Megan for her third straight final appearance in her three starts this season, and Callaway for his first in 42 event starts.    With looming chances of rain and a swing in weather conditions, Megan would take lane choice and the starting line advantage over Callaway, but his hard charge at the start made up for the slight advantage.  Meyer's Racer's Evolved A/Fuel Dragster started reeling him back in, but just ran out of real estate at the stripe.   Calloway's 5.288 at 272.23 mph would take the win over Meyer's losing 5.337 at 272.95 mph.   The difference at the finish line was just 0.0397 seconds (approximately 16 feet).   Callaway went on to score his first-ever event win in the Houston Top Alcohol Dragster final.
We took our data from qualifying to turn on the win lights in first and second round, but had some complications when it came to the semi-finals. With light sprinkles coming, we had to sit in the staging lanes for about 20 minutes – which probably cost us the run since our fuel got warm from the humidity. This, combined with a cooler track, made us slow down in third round just enough to let Lee get past me and get the round win."
Meyer leaves the event holding the No. 2 position in NHRA Lucas Oil National Series Championship points.   She next will take the home track advantage at Heartland Park Topeka's 28th Annual NHRA Kansas Nationals event on May 20-22nd.
I'm very happy for Lee and the Callaway Collision Team for winning their first National event! It's an amazing feeling and I'm very fortunate to be one of the few beginners to already have a National event win on my racing resume. We are pleased with our outcome at Houston, and we are very excited for our next outing at our home track of Heartland Park Topeka in Topeka, KS for the Summer Nationals! I will be doing a couple displays and interviews around our community to help bring awareness of the reopening of the track, and to help NHRA have another sold-out crowd!"
2nd Round Eliminations – Megan Meyer