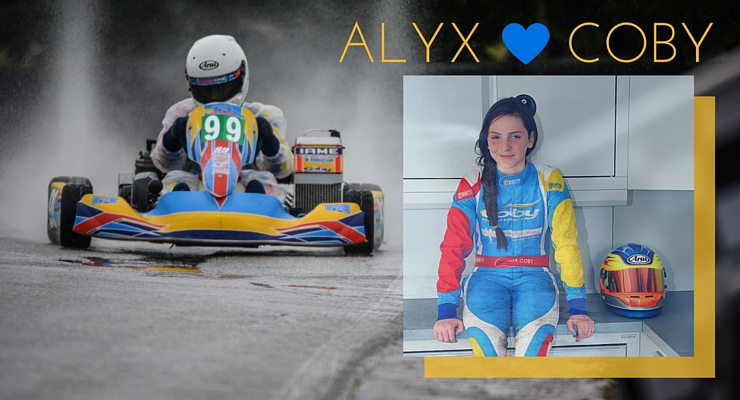 At an age where most of her schoolmates are preoccupied with music, fashion and the average tweenager rites of passage, 11 year-old Alyx Coby is making her presence known in the Ireland Karting scene.
Hailing from Newbridge, Co. Kildare, Ireland, Alyx grew up around the karting world.  Her father, Gary, raced them when he was much younger, and her uncle Aaron still competes.   For her, it was inevitable that she would end up behind the wheel herself, and she took that opportunity by testing shortly after her eighth birthday.   Her father and uncle coached her on mastering one skill at a time, gaining seat time in testing when the opportunities were available.
"My dad and my uncle took me out for some test days after my eighth birthday and it's just been a case of getting out for as much testing as possible and working on one particular thing at a time to get it right before moving on to the next thing."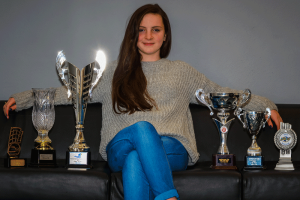 In 2013, she entered her first official race.   She would capture a few top 5 finishes that year, winning two novice finals in her rookie season.   Her second season, she continued to improve, winning her first qualifying heat and appearing on the podium several times.  But her third season in Karting would be a breakout year for Alyx Coby.  She won three finals and set six fastest lap records, finishing the season in 5th place for the championship.
"I had a great start to the year and at the third round of the championship I finished in second place in the two qualifying heats and went on to win both finals on the day. That's when I knew that I had what it took to be successful in karting. I always enjoyed racing, but this was when I really fell in love with it."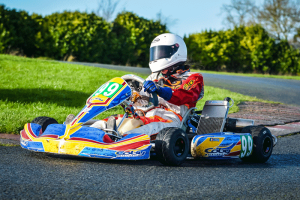 At the end of the year in 2015, Alyx Coby made the jump up to the IAME X30 Junior class, becoming the youngest driver and the first girl to race the class in Ireland.    The class features 125cc engines that produce 28 horsepower and can reach speeds up to 70 miles per hour.    Alyx will be competing in the IAME X30 Junior class for the Motorsport Ireland Karting Championship this season in a new, more powerful FA-Alonso Kart.
"Being the first girl to win a national final at cadet level in Ireland was pretty special and unique. Nobody else will ever be able to say that.  There are not that many girls racing karts in Ireland so a lot of the time when I do something I'm the first to do it. Last year I became the first girl to race the IAME X30 in Ireland."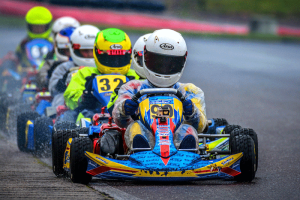 With the new class and kart comes new challenges.   Alyx works hard away from the track to meet the physical demands of the sport – aiming at increasing her strength and upper body control.
 "My new kart for the 2016 season is bigger and more powerful than the one I used in the Cadet class for the last three years and the tyres have a lot more grip so it requires more effort to get the kart through the corners. After my first few long runs in the kart my arms were really sore so I have had to spend the winter doing extra training to build up the strength in my arms. I recently started doing Karate and train four nights a week for two hours and also on Saturdays. It is really helping me and it is a lot of fun too."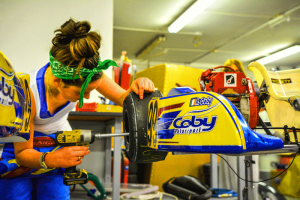 At the track, Alyx's only focus is driving and improving her skills on the track.  Her father handles the business side of the team: loading/unloading the truck, getting them to the races, setting up awnings, setting up kart for competition.    But Alyx is beginning to learn from him on the basic mechanics of the kart and how to set it up, adding that for now, she'll leave it to the experts.    She focuses on fine tuning her driving skills, adding more race events whenever possible to increase her experience.
"Testing only gets you so far, you still need racing experience to improve. Having somebody else to use as a target or reference on track is so much more valuable that just doing lap after lap in testing on my own so I try to get out as often as I can in local club meetings in between the Championship races and over the winter."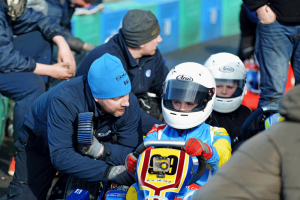 The demands and discipline needed to be successful in karting help Alyx at school to focus and concentrate and have helped develop her self-esteem.
"It has made me tougher and more determined and winning my first few races gave me more confidence in myself, that I could do anything if I put my mind to it. Being around older drivers has also helped me to be more mature than a lot of girls my age."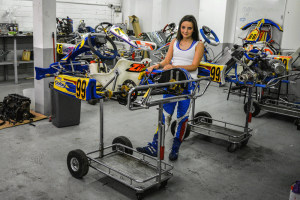 Between the demands of her race schedules, school and karate, Alyx doesn't have the typical life of an 11 year-old.   At first, her classmates didn't understand her passion for racing, and what she was involved with.   But that all changed after her first win received some local news coverage.
"When they first heard I was racing karts they thought it was just like bumping cars or the little rental karts they have at some tracks. It was only after I won my first race and appeared in the local newspaper that they realised what it was I did. Now they all think it is pretty cool and some of them keep up to date with what I'm doing by checking the news on my website or following my Facebook and Instagram accounts!"
 But even with her success, Alyx Coby has faced some obstacles in her path.   Two years ago, the young racer was involved in a big crash at the beginning of the season that led to her kart rolling over several times and ejecting her from the seat.    She was ok, and wasn't badly injured physically, but the emotional side shook her up considerably.  Through time, experience and motivation from her father and uncle, she works to overcome the lingering obstacles that the crash created.
"I have a fear of crashing," said Alyx.   "… It took me a while to get used to being in the middle of a big group of karts. I'll get over that with a bit more experience though."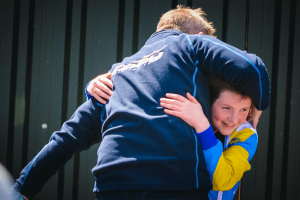 For now, Alyx is excited to take the next step in her racing career.  Her racing role model is her father, who she looks up to in the sport.  His support and guidance have meant everything to the young driver, who is eager to follow in his footsteps and make him proud.
"My dad is my racing hero. People at the track are always telling me they remember him racing when he was younger and tell me stories about when they raced against him so I really want to be as good as he was.    I think my biggest fear is coming in after a bad race and having to face my dad and explain to him what went wrong!"

With a bright future in front of her, Alyx Coby is determined to carve out a career in motorsports.   She is putting in the work to improve as a driver, with ultimate hopes of a future in Formula 1 racing.
"When I'm older I would love to race cars and maybe go all the way to F1 but for now I'm focusing on karting and the main goal is to win the Motorsport Ireland Karting Championship at least once."
 One thing is certain, we have just seen the start of a bright career for Alyx Coby. 
Best of luck this season!
Video from Alyx Coby Racing